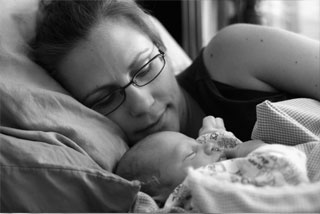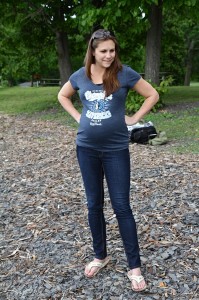 My first birth went pretty much as planned – a beautiful home birth at 38 weeks 6 days, resulting in a precious baby girl.  So when I got pregnant again, there was no reason to think that things would not go smoothly again for me – but I had a gut feeling that would not be the case.  I'm not usually one to pay much attention to intuition, but I couldn't shake that feeling.
It might have been that I had 2 miscarriages prior to getting pregnant with my son, or that my progesterone levels were reading lower than expected, or that we couldn't even see him on my first sonogram and thought I would miscarry again.  While we were overjoyed when we saw his little heartbeat just a week later, I had an eerie feeling that this pregnancy wouldn't be quite like my last.
Delilah had taught our childbirth education class when I was pregnant with my daughter.  I decided that I wanted her as my doula for my second birth – for some reason I felt like I would need the extra support.  And boy, was I right!
At about 36 weeks along my blood pressure started creeping up.  It went from 100/60, to 110/70, to 120/80, and then 125/85.  Now, this can be totally normal as you near birth, and I had no personal or family history of high blood pressure or preeclampsia, so we didn't think much of it.  I was really fit, healthy, and I had no signs of swelling, excessive weight gain, or headaches.  But to be safe, my midwife asked me to monitor my blood pressure at a local drug store that had a blood pressure cuff.
The day she read my blood pressure at 125/85, I decided to check it at my local CVS.  The reading was 150/100 – and my reaction was "well, that cuff is broken, there is no way that is right."  A couple days later, I asked my chiropractor to take my blood pressure, which he read at 140/100.  I contacted my midwife, who put me on bed rest, ordered a 24-hour urine test, and asked me to come see her in the morning.
The next morning, I went by a Walgreens to check my blood pressure again.  This time it read 161/116, which I knew was not good.  I went immediately to my midwife who ordered blood work, a sono to check my baby, and let me know I would be going to the hospital to deliver.  Unfortunately, her usual back-up doctor was out of town!  And this is where Delilah came to the rescue.  She and my midwife got on the phone with each other to look at the list of OBs who were working that weekend, to help me find a doctor that would be kind to me as a homebirth-transfer, and would hopefully let me try to labor instead of ordering an immediate C-section.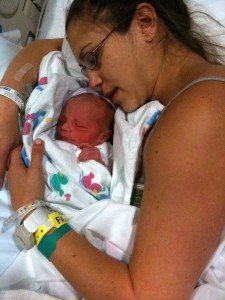 My midwife told me where to go and Delilah kept me calm and helped me know what to expect.  She even recommended I go through a drive-thru to eat up, knowing that I wouldn't be allowed to eat at the hospital.  Delilah met me there, which gave me great security in a completely new and unexpected situation.  I mean, it didn't look good – my blood pressure was off the charts and for all they knew, I was this crazy homebirth lady who hadn't had proper medical care and was about to die.   Delilah spoke with the doctor and nurses while we waited for my midwife to arrive with my records and rushed labs from that morning.
Once the doctor saw my records and labs, he calmed down and went from "we are doing a C-section right now" to "lets try Cervadil overnight and Pitocin in the morning."  I was put on magnesium sulfate to lessen my chance of seizures from the high blood pressure.  Mag sulfate usually means you get a catheter– but Delilah pleaded for me to remain catheter-free since I planned to have no epidural.  Every nurse that came in was shocked to see I didn't have a catheter, so I knew that was an abnormal thing for the doctor to allow, and I was SO grateful to not have one!
Delilah stayed with me until about dinnertime. Then, since they were planning to do Cervadil overnight and Pitocin in the morning, we decided she should go home and I would call her when I needed her again.  My midwife also stayed with me until she felt really good about the plan of action, and then went home so my husband and I could try to rest.  Let me tell you – sleeping at a hospital is horrible.  People come in every 15-30 minutes so you can't get any real sleep.  I definitely needed to be there, but this experience certainly validated my desire to avoid the hospital for a healthy, normal birth!
Delilah came early the next morning when they started Pitocin and spent the entire day by my side.  It was such a comfort to have a team of my doula and my husband there to support me.  The Pitocin was definitely different from regular labor – but somehow I made it through the day without an epidural.  At 9:30 am I was 1 ½ cm and Pitocin had been started.  By 12:15 p.m., the contractions were feeling slightly stronger than Braxton Hicks, and at 1:48pm I was 2 cm.  At 2:30 p.m. things were feeling more intense, at 3:30 p.m. I was measuring 3-4 cm, and by 6:00 p.m. I was 6cm and things were feeling really intense!
Delilah called my midwife about 6:30 p.m. saying that she thought things were moving fast now and probably she should come to the hospital. It was so hard to labor in that uncomfortable hospital bed, but my blood pressures read much better when I was in the bed and lying down.  The mag sulfate also affected my vision and made me a "fall risk" – so moving around was pretty difficult anyway.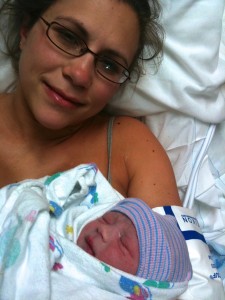 At 7:47pm my OB checked me and I was 9cm.  He said, "Won't be long" and left the room – and barely made it back in time!  I was sure I was feeling the urge to push – so my midwife snuck an exam glove and checked me at about 8:00 p.m. and said I was complete with a bulging bag of waters.  At 8:07 p.m. my OB strolled back in and was getting prepped for the birth. He told me to wait as I was pushing and I yelled "I can't!" and my bag of waters burst before he could get his second glove on.  The feeling after my bag of waters burst was the worst ever – I can't describe it in any way except feeling like I had a giant baby in my butt and it needed to come out NOW!
Again my OB told me to wait – probably because Henry's hand was by his face – but I couldn't.  I needed him out ASAP.  Sweet Henry was born at 8:14pm and he was 7lbs 3oz.  He was whisked away because his body temperature was lower than the pediatrician preferred, which frustrated both my midwife and Delilah who kept saying, "He would be warmer if you gave him to his mother!" My wonderful husband promised to stay go with him and hold his little hand wherever they took him.
I had to wait over an hour to get my baby back, but to be honest, I was too exhausted to care that much.  He nursed for just a second after they brought him to me, but fell asleep quickly.  Delilah stayed with me for another hour and then left so we could try to get some sleep (which, as I mentioned before, is impossible in a hospital).
It was interesting that, with my first birth, I had read so much about this instant bonding and elation that comes from a natural birth.  However, when my daughter was born, I felt more like "Hello – who are you?  OMG, I have a baby – what do I do?" I don't think I was depressed, but I was a little in shock and overwhelmed by the huge life change that is motherhood!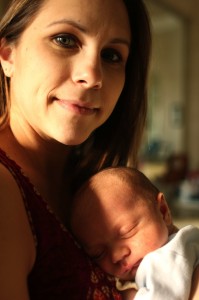 When I had Henry though, everything was different.  Maybe I had already adjusted to the shock of motherhood and knew better what to expect, or perhaps after the scare of preeclampsia, I was just so happy to have a healthy, full-sized, beautiful baby.  I was instantly in love and felt very motherly and protective of him.
Henry is two now, and as we think about adding to our family again, my attitude about pregnancy and birth has changed a lot.  I used to think a hospital birth or a C-section would be the worst thing in the world. And it is still a scary thing to me. But when I look at Henry and my daughter Sierra, I am reminded that I would do anything to bring them into the world.  I now know I am at higher risk of pre-eclampsia happening again than the average person, and I'm ok with that.  All I know is, if I get pregnant again, whether it's a homebirth or hospital birth – I want Delilah there with me.
PS – You are probably wondering how I remembered all the details of Henry's birth story.  The amazing Delilah Ray recorded every detail and gave me a copy of her notes!