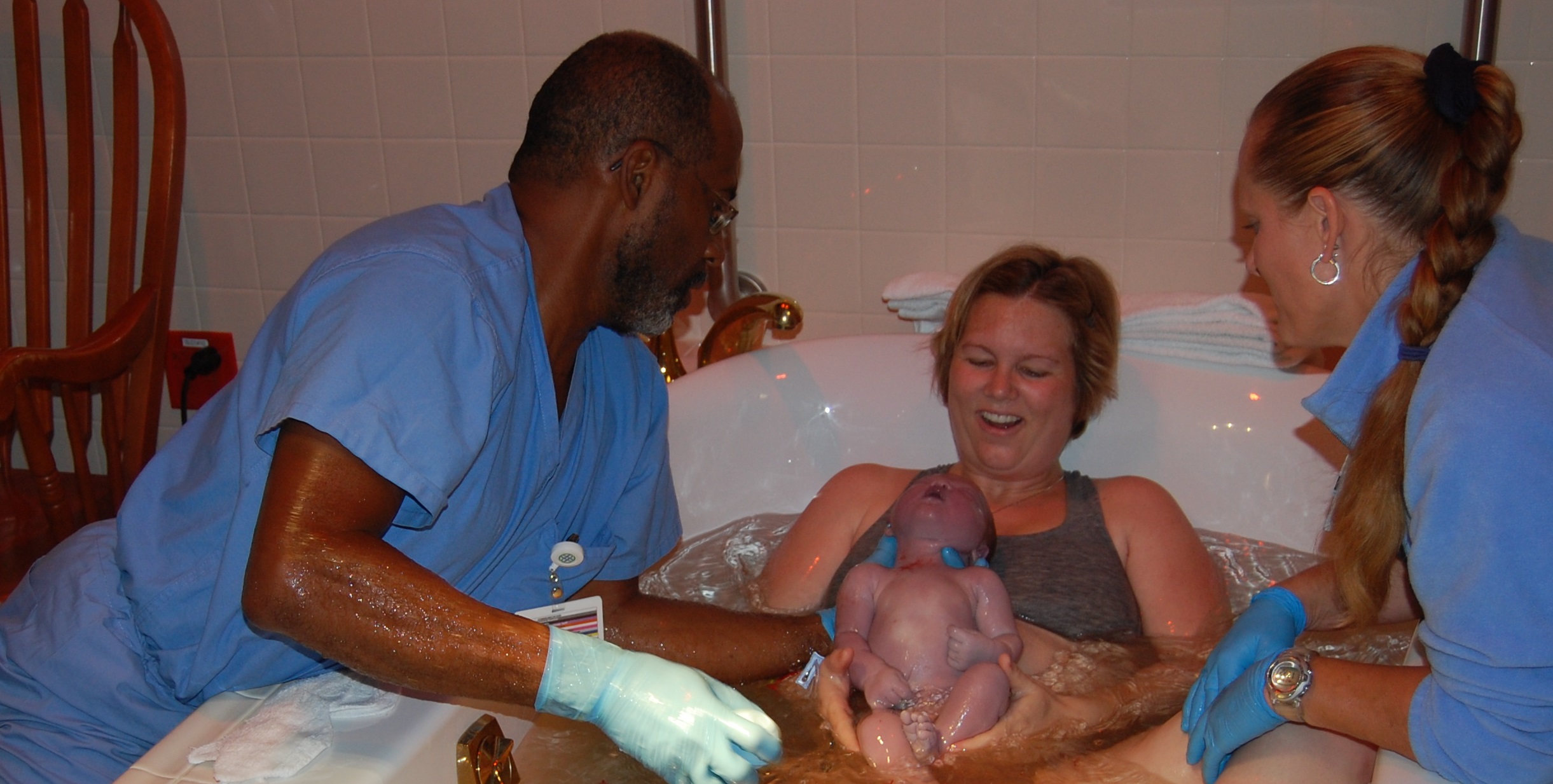 William John's Birth Story
My due date was January 29, 2009, and of course that day came and went. I was secretly hoping that I would go into labor before then, but at the same time I knew that really wasn't going to happen. I was going for a VBAC, so I had to just wait until labor started on its own.
I woke up around midnight on Sunday, February 1 to a contraction. I was able to go back to sleep but with each contraction it woke me up. I struggled with insomnia for about the last month of the pregnancy, so it wasn't surprising when I decided to get up and surf the web for a bit around 3am.
I checked my email to discover that Delilah had sent out an email saying she was off to a birth. Immediately I was thinking the worst; that my labor would pick up quickly and Delilah would be unavailable. I was relieved when about 3:30am, Delilah emails again saying she is home from the birth. I replied to her email letting her know that I thought I was having contractions, but at that point there wasn't much to time since they were very sporadic. She responded back suggesting that I go and get some sleep because I will need it for later. I laid back down about 4am and slept in between the few contractions I had until 6am.
David was awake by then and I told him that I was having contractions on and off, but they weren't anything serious yet. Matthew got up at his usual time of 7am. I just rested on the couch and watched the Disney channel with him. At around 9am it had been 2 hours since my last contraction and I thought they were gone and just as I told David that I thought they were gone I had another one. I continued to have 1-2 contractions every 1-2 hours throughout the day. I went along with my day as usual. I vacuumed the house while David and Matthew ran some errands. When Matthew napped in the afternoon, David and I relaxed and watched TV. In hindsight I too should have taken a nap, but I didn't know how long this early labor would last. We went to my parents' house for dinner as we do every Sunday.
My parents were aware of my contractions and I packed everything that Matthew would need while staying with them. I told my parents it was their choice to have Matthew stay or take the chance that they might need to pick him up in the middle of the night. My dad wanted him to stay because he didn't want to chance a middle of the night trip to our house. I had several contractions on the way back to our house; it is about a 30 minute drive. I decided that I would take a bath when I got home and just relax.
We got home about 7:30pm. While I was getting the bath ready the phone rang and it was Delilah. She was calling to check on me. We talked for about an hour and my contractions had begun to pick up, at that point they fluctuated between 10 to 15 minutes apart. I got off the phone with Delilah and decided to go to bed to get some rest.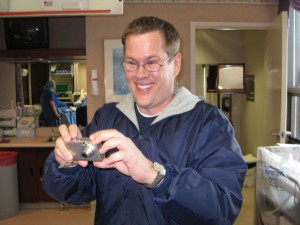 David decided to go to bed too. He wasn't feeling well all day and it was important that he get plenty of sleep as well. I feel asleep quickly but woke up every time I had a contraction and they were quite painful. After 45 minutes and 3 contractions I decided to get up to be more comfortable. David was fast asleep and I didn't want to disturb him so I decided to rest on the couch and watch some TV. Delilah checked in with me again about 10:10pm and at that point my contractions were 10 minutes apart. I decided that I should get the camera ready to take to the hospital. I had several pictures of Matthew to download to the computer first. I instant messaged with my brother at this time too, and that seemed to help distract me. Between the contractions I felt great, but during the contraction I was in a lot of pain.
Just before midnight I felt like I couldn't take the pain anymore. My contractions were anywhere from 3 to 8 minutes apart, of course I preferred the 8 minutes apart ones. I sent Delilah a text message and told her I was ready for her to come. I knew it would take her about 2 hours to get to me. I woke up David to tell him that Delilah would be coming soon. He got up at decided to take a shower. When he got out he said he felt light headed, so I told him to go back to bed. I debated about taking a shower too, but decided to get into the bath again. I continued to time my contractions, but they were still all over the place between 3 and 8 minutes apart. Even in the bath the contractions were very uncomfortable. I only stayed in the bath maybe 30 minutes. At almost 1am, Delilah sent me a text message telling me she was on her way and asked if she should come to the house and I replied yes. But I called her about 15 minutes later to discuss if we should just meet at the hospital. I was just so uncomfortable with each contraction that I was very ready to go to the hospital. However, my contractions were not close enough or even regular enough to justify going.
The next 40 minutes or so seemed like forever. I was so happy when Delilah got there about 1:45am. She asked how I was doing and I told her I was ready to go to the hospital and get an epidural. She suggested we wait until 5am and then look to see where we are at. I thought to myself, "I will never make it another 3 hours!" Then I had my first contraction with Delilah there and it was so different than all the others. She massaged my back during the contraction and reminded me to just relax. I realized then that I was tensing up with each contraction, which made the pain a lot worse. For the next few contractions, she had to keep reminding me to relax my shoulders. She also used the rice sock on my back during the contractions and that was wonderful as well.
We chatted on the couch in between contractions and things were much more tolerable. At about 3:45am, Delilah suggested that I lay down for a bit to try and get some rest. We went upstairs to the guest room and I was able to get two 10 minute naps in between contractions. With each contraction Delilah would hold the rice sock against my back and it helped, but I really hated lying down. I had a big contraction about 4:30am and with it I felt something different but I wasn't sure what it was. Shortly after that contraction ended I got up to use the bathroom and when I sat down there was trickling, but I knew I hadn't peed yet. That something different that I felt during the big contraction was my water breaking. It wasn't at all how I pictured it.
At that point I wanted to go back to the couch, as sitting on the edge of it was much more comfortable. At about 4:45am, Delilah suggested that I get on my hands and knees for a bit because I was having 2 contractions very close together and then one farther apart. She said that can be a sign that the baby is not in the ideal position. I didn't mind the hands and knees and it allowed Delilah to put a lot of pressure on my back. It felt like she was putting all her weight on me, but it felt so good.
I got up about 5:15am (Yay, I made it until 5am!) for another bathroom break. Again, I had more trickles and this time I also had mucus with some red threads. I was excited. We continued with the hands and knees for a few more contractions.
At some point, I can't remember exactly when, we chatted about our drive to the hospital. I live in McKinney and was delivering at Medical City in Dallas. It is about a 30 mile drive down the 75. David works at the "high-5" and we knew approximately how long it would take us to get there during rush hour. We decided we wanted to leave for the hospital no later than 6:15am, that is the cutoff time that David uses and it usually takes him 40 minutes to get down there.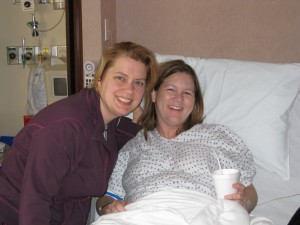 At 5:30am, Delilah asked me if I wanted to eat something. I said crackers and she suggested something more. I decided on chicken noodle soup with some crackers. Delilah made my soup while I woke up David. I ate 3-4 bites of soup, I wasn't hungry at all. At this point my contractions were 3 minutes apart. David got up and had some toast for breakfast and then I brushed my teeth before we left. David still wasn't feeling too well, but was happy that he was able to get some sleep. Thank goodness for Delilah!
We got into the car about 6am to leave. It was so uncomfortable to sit back in the seat, but necessary for me to wear my seatbelt. I wasn't willing to not wear my seatbelt with all the crazy drivers out there and for the fact that we were driving during the beginning of rush hour. David drove his usual route, taking the back roads and getting on 75 in Allen to avoid the congestion in McKinney. Every red light that we hit felt like an eternity. I felt like I was having contractions constantly and all I could think about is how soon we were going to be there. The car ride was by far the worst part of my labor. I was so uncomfortable and I tried really hard to stay relaxed during each contraction. It was hard sitting back in the seat, since I found sitting on the edge of the couch so comfortable at home. I hated not having Delilah there rubbing my back or applying the rice sock.
Luckily, there were no accidents and traffic did move quite well. We arrived at the hospital at 6:40am. We knew that L&D was in Building D, but I couldn't remember where exactly. David dropped me off at the door and then went to park the car. I entered the building not knowing where I was going. There was a lady inside that asked me if I was going to Outpatient Surgery (I think that is what she said), I replied no that I was looking for Labor and Delivery. I am still shocked that she wouldn't have guessed that on her own, oh well. She wished me luck. I was a little annoyed that she didn't offer to help. I proceeded to the elevators to look for a sign, but none of the signs said L&D. Just then Delilah turned the corner; I was so relieved to see her. I told her I didn't know where L&D was and she didn't either. I also told her there was a directory outside the elevator hallway, so she went to look. She didn't find anything on there but luckily there were some other women there that told her it was on the 7th floor.
We finally made it to L&D. As soon as we got there I had a big contraction and I hugged Delilah while the nurses asked me if I had called ahead, if I had called my dr. and what my social security number was. I hadn't called anyone, we just showed up. Then the nurse asked me if I could walk to the room and I said no way. She said she would get a wheelchair. I watched her walk down the hall and felt like telling her she could at least run! I told Delilah that I wanted the epidural and she suggested that we see how far along I was and suggested that I wait until I was 8cm. I told her I would just have to wait and see. I didn't know where I was at and if I would be able to make it to 8cm.
When we got to the room I decided to go to the bathroom. I was trying for a VBAC and my OB wasn't going to allow me to get up and go to the bathroom, so I figured I would go while I could. I had lots of bloody show and mucus. David was in the room when I got out of the bathroom. I was excited to tell both of them about all the mucus! Delilah helped me get the gown on and into the bed. I didn't want to sit back in the bed but I had to for the nurse to start the external fetal monitoring and the contraction monitor. Then I had to answer all the intake questions. I really wish there was another way to do that. It isn't much fun answering all those questions while having contractions and not be able to truly rest in between contractions.
At 7:05am my nurse, Rebecca, checked me and I was 6cm, 90% effaced and a -1 station. I requested the epidural at this point. I didn't know how long it was going to take for me to get to 10cm and I didn't like the pain at all. At 7:30am I was still waiting for the anesthesiologist and I began to feel like I had to poop, so Rebecca checked me again. I was 8cm and a 0/+1 station. My gown is soiled at this point so both Rebecca and Delilah help me change it. At 7:35am the delivery table was prepped and the anesthesiologist arrived. Rebecca checked me again and I am 9-9.5 cm and +1 station. I get my epidural at 7:45am. Then at 7:53am I felt lots of pressure even with the epidural. At 8am, Rebecca checked me again and I was 9-9.5cm and my cervix went around ¾ of the way and +1 station. I complained that my back hurts down low. At 8:05am I was still growling with each contraction and could still move my feet. At 8:25am, Dr. McClintock arrived and checked me and I was complete. She says the baby is acynclitic, but not too bad. She placed the internal fetal monitor on the baby's head. At 8:33am I pushed for the first time.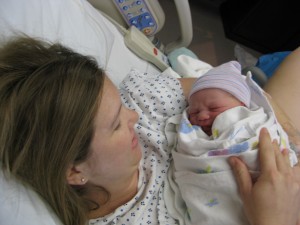 As I am pushing I begin to feel my legs again and I have horrible pain in my back and on my right side. It is more of a constant pain than pain that comes and goes with each contraction. Rebecca informs me that the anesthesiologist didn't give me a pump that has a constant flow of pain relief because he figured I would deliver before the medicine wore off. I state that I want more medicine that the pain is too much. At 8:45am they helped move me to my right side to help with the pain while I waited for the anesthesiologist to return. The next 15 minutes felt like an eternity. I told Delilah at that point that I would prefer a repeat c-section to using a vacuum, forceps or allowing the epidural to wear off.
Delilah took David into the bathroom to discuss this with him. She told him that she could try pushing me a little harder if he thought that she should, or we could just let it go, but if we just let it go, we were really hamstringing our chances of a VBAC. She told him that she had already told me that, but asked if he thought she should go over it with me again one more time, really explicitly, to make sure I was okay with letting go of the VBAC, or if she should just let it drop and keep trying to help me to be comfortable and calm until the meds kicked in, even if it made it more likely that I would get another c-section.
David told Delilah that she should go over it with me one more time, which she had hesitated to do, because she didn't want me to feel like she was bullying me or pressuring me – Delilah just wanted to make sure that I was 100% aware of what I was choosing and that was the choice I wanted to make. But David said she should ask one more time, and
just make totally sure, because they both knew how much I had wanted the VBAC. It wasn't that either of them wanted to try and make me, or anything like that- it was just they both agreed that they had to be totally sure that I was sure, before they backed off and let me do something that might mean another c-section.
So with fear and trembling Delilah brought it up again. She wasn't really fearful, but I had pretty much bitten her head off a few minutes before because I was in so much pain. Delilah was concerned that I might be mad if she pressed the issue too hard, but she didn't want me to regret it later if she hadn't pushed it hard enough.
After the second conversation, Delilah was comfortable with my level of certainty so she didn't feel bad about my choices. She was just really concerned that I be very, very clear about them. I just wanted the pain the awful pain to go away. In that moment that was all I could think about.
At 9:00am the anesthesiologist was back to give me more medicine and a pump. David left to get coffee for both him and Delilah. I was waiting for the increased medicine to take effect. At 9:15am, Rebecca left to warm up the rice sock so that I could use it around my neck to warm me up because I was cold. I told Delilah again that my priority is to feel numb at this point versus progress with pushing so we continue to wait for the increased meds to take effect before trying to push again. I just wanted the pain to go away; I wanted that more than my VBAC!
At 9:24am, Dr. McClintock checks in and I still was not interested in pushing. I remember dozing on and off at this point too. Then at 9:45am, they moved me to my left side, and I began to feel better with respect to the pain. I called my mom to update her and also to check and see how Matthew did overnight with them. David called his boss to let him know that he won't be in today. At 10:15ish, Rebecca was back to try pushing again.
At 10:20am I start pushing again. Rebecca checked me at 10:25am and the baby was at +3. I continued pushing with each contraction. It is really hard to push when you can't feel anything and it is hard to know if you are doing a good job. There were some pushes that everyone told me I was doing great and that was it, but I couldn't feel what I am doing so it was hard to repeat it. At 11:30, Dr. McClintock called to say she will be back in 30 minutes and that we needed to start thinking about possibly using the vacuum.
Delilah recommended that we change positions, so they moved me to my right side to push. I pushed like that for about 20 minutes or so. Then they decided to move the bed into a throne-like position. When they moved me from my right side there was a lot of fluid. At 12:10pm, Dr. McClintock was back and did a few pushes with me and then she left to check on another patient also in L&D. She returned to discuss using the vacuum. My biggest concern was whether or not she would cut an episiotomy right off the bat. She tells me no and I ask both her and Rebecca to leave the room. David, Delilah and I talked about using the vacuum. Delilah told us that in her experience those who use the vacuum don't usually go on the have a c-section. I am all for it and David seemed a little unsure, but we decided to go for it.
At 12:45pm, everyone was back to try the vacuum. I continued pushing with each contraction while the room was prepped. At 1:00pm, Dr. McClintock applied the vacuum and I pushed a few times. She then told me that she wasn't sure if the baby will come out if she does an episiotomy, but that she doesn't think he will come without it. I consent to the episiotomy with my next push, and at 1:10pm William John is born! Dr. McClintock placed William on my chest and David was able to cut the cord. The nurse cleaned off William a little bit while he was still on my chest. Being able to have that was awesome! I delivered the placenta at 1:15pm and I was shocked how quickly that happened. Dr. McClintock then explored my uterus and told me it appeared okay, which made me very happy. She then proceeded to sew me up. I ended up with an episiotomy and a 3rd degree tear. I was able to hold William again while the nurse did her paperwork before she took him to the nursery.
David went with the baby to the nursery and returned a short time later with the stats. William was 8lbs 12oz and 20.5in long. I was shocked! Matthew was 7lbs 2oz and 19.75in when he was born, so I was expecting William to be about the same. Delilah stayed until about 2:40pm and we enjoyed chatting about everything. I moved to my post partum room about 3pm.
My reflections:
I am so happy I had my VBAC! I could not have done it without Delilah. I would have gone to the hospital too early. She is absolutely amazing!
If I would have known how quickly things would have progressed I would not have gotten the epidural. Also, if I would have known how painful it would have been when the epidural wore off I would not have gotten one. Next time I know for sure that I will go all natural. I am determined and it is my goal.
The VBAC recovery was awesome. Even with an episiotomy and a 3rd degree tear. I was feeling great just a few days later. It was amazing at 1 week; I didn't even feel like I had just had a baby. My c-section recovery was awesome too, I will admit, but the VBAC one was 1000 times better.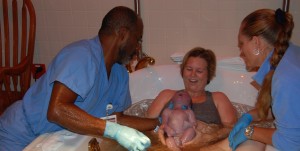 Christopher David's Birth Story
I was due August 4, 2010 and definitely wasn't expecting to go into labor before my due date. I was induced with Matthew at 40 weeks 2 days and went into labor with William at 40 weeks 3 days. On Sunday August 1, we spent the day "nesting". The laundry and dishes were all done. David hung drapes in both William's room and the nursery. I packed my bag for the hospital and also made two meals to put in the freezer for later.
I went to bed about 9pm, which was typical for me at this point. I recall waking up a few times because I was uncomfortable, but then went back to sleep. I moved to the couch at some point during the night because my heartburn was so bad and I could sleep in a more propped up position to help with it. Moving to the couch in the middle of the night had become almost a nightly routine. About 3am I woke up because I was uncomfortable and that is when I realized that it was a contraction. I tried to go back to sleep, but I couldn't get comfortable.
I decided to surf the internet for a bit and time my contractions. I had downloaded the Contraction Master app for my iPhone and it made timing my contractions so easy. I timed them for about an hour before I decided I should email my doula, Delilah, and give her a status. The contractions were 8-10 minutes apart and lasting about 30 seconds. At 4:30am when David's alarm went off, I told him that he wouldn't be going to work because I was having contractions. He was really surprised; we just weren't expecting Christopher to come early. David and I both got ready as if it was a normal day.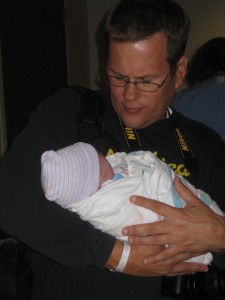 At 6am, I sent Delilah a text to see if she got my email. At that point contractions were 5-6 minutes apart and 40 seconds long if I was up and moving around, but closer to 10 minutes apart if I was sitting down resting. It was hard to time the contractions while trying to get the boys up and ready to for daycare. Delilah suggested that I just go on with my morning and then time them again at 8am for an hour and then update her. I had a prenatal appointment with Dr. Cummings scheduled for 2:15, but I was really hoping that I would be ready to go to the hospital before then. David and I got the boys dropped off at daycare and decided to go out for breakfast. I called my mom at this point as well to let her know I was having contractions and that my dad would need to pick them up from daycare that afternoon.
We got back to the house about 9am and I timed my contractions, they were 3-7 minutes apart and still about 30 seconds long. We decided to run some errands and see if they would start to pick up. We dropped some diapers off at daycare for William and the ladies working in the office were shocked that I was out and about while having contractions. It just made me laugh. We then went to my work so that I could pick up my computer. Some of the guys that I work with were shocked that I was there while having contractions. I told them it wasn't too bad, that I could still talk through them, so I had a while to go still.
We decided to get some lunch at Panera & I continued to time my contractions. They were still 3-7 minutes apart. Most of the time lasting 40 seconds, but there were a few that lasted 60 seconds and the pain was only in the front down low. We got back to the house and loaded up the dogs and my hospital bag. We drove to Carrollton to drop the dogs off at my parent's house and then headed to Denton for my appointment with Dr. C. At almost 2pm we were waiting for my appointment and the contractions had slowed down to 8 minutes apart. Everything looked good at my appointment. Dr. C checked me and I was 3cm, 70% effaced and baby was floating. I was making progress. I had seen Dr. C on Friday and was 1cm and 50% effaced. Dr. C told me to go home and that he was sure he would either see me later that night or sometime in the morning. We went back home a little discouraged because I was really hoping I wouldn't have to drive back to McKinney and then back to Denton. But things were what they were.
We got home and I rested for a bit, the contractions had slowed to 10 minutes apart. I was able to catch a little cat nap in between for about an hour. At 4:30pm I decided to get up and sit in the tub for a little bit. The contractions started to pick up again, they were 3-5 minutes apart and 30 seconds long. But they were becoming more painful and I was beginning to feel it in my back as well. I decided to get out of the bath about 5pm and I told David it was time for us to get something for dinner. We decided to go to KFC, I figured I could eat some mashed potatoes. During the drive there my contractions really picked up and I told David I just wanted to get the food to go and eat at home. I was hoping to eat at least the mashed potatoes and one piece of chicken, but to my surprise I was really hungry and ate all my food.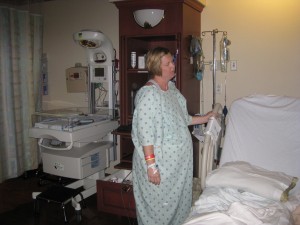 At 5:40pm, I update Delilah and tell her that the contractions are 2-3 minutes apart and 60 seconds long, and I am no longer talking through them. We decide to meet in Denton at that point, just to get the drive out of the way. We figure we can assess things when we get there and decide if we want to get a hotel room or just head to the hospital. Of course, at this point it still rush hour for Delilah. I decide to use the restroom before we leave about 6pm. I notice a trickle of fluid and think that my water broke. I only had a trickle of fluid each time I went to the bathroom, but that is exactly how it was with William's birth when my water broke. Contractions are coming about every 7-8 minutes and lasting roughly a minute. We arrive in Denton just before 7pm and decide to wait in the hospital parking lot for Delilah.
I get a call from Delilah who tells me that there is an accident in Lewisville on the bridge and she is looking for an alternate route from I-35E. I help guide her on the surface streets, thank goodness for the Google maps app on my phone. Contractions continue to be 8 minutes apart until Delilah arrives just before 8pm. I decide that I'd like to go into the hospital and be admitted. As we walk in my pants become completely soaked and by the time we make it to the Labor and Delivery nurses' station I feel like I have peed my pants and the fluid is running down my leg. We are taken to LDR10 and my nurse is Brenda. I use the restroom and again have a lot of fluid. I get out of my wet clothes, put on my sports bra (to be prepared for the tub later) and begin the intake questions.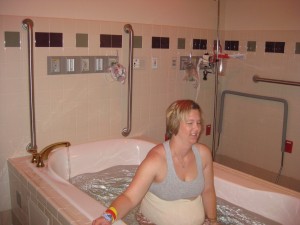 At 8:35pm, Brenda checks me and I am 4-5cm, 80% effaced, baby is at -1 station and my cervix is posterior. Brenda brings me some water and I decide to continue to rest between contractions, as we are all thinking that this could be a long night. Brenda comes back to do my IV and about 9:15pm I use the restroom again, this time I have red streaks, yay! I get back in bed to rest and contractions are 3-6 minutes apart and 45-55 seconds long. I continue to rest until Dr. C comes in to check on me (10:10pm) and I sign the VBAC consent form. He says he is surprised I am not up running a marathon and that I am too happy to be in labor. I told him it is only bad during the contractions. At 10:23pm, contractions are now 3.5-4 minutes apart. I decide to use the restroom shortly after that. When I return, I do not feel like lying back in the bed. I try standing next to the bed. They are really beginning to hurt now. About 10:45pm I am no longer talking between the contractions. I start making "Ahhh" sound between contractions at 10:52pm and begin thinking I am not going to be able to do this. The pain is too much. At 10:57pm, I am ready to get into the tub. I want to see if it helps with the pain. Brenda checks me again before we head to the tub. I am 6-7cm, 90% effaced, baby at 0 station and cervix is midline.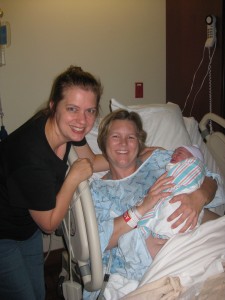 At 11:06pm I am in the tub. It is wonderful, until the first contraction hits. It is still so very painful. I take the leapfrog position in the tub. At 11:10pm, Delilah sends David to get a cup so that she can pour water over me during the contractions. At 11:12pm, I start to sound pushy to Delilah, and she asks me if I am pushing. I say yes and that it feels like I have to poop. When David returns she asks him to get the nurse.
Brenda comes in with a huge glove, like one that is used when cows have babies. David, Delilah and Brenda are all laughing about the glove as Brenda puts it on. I didn't find any of it funny at this point as the contractions are so painful. Brenda checks me and says that she thinks I am complete. She wants me to get out of the tub and head back to my room. Delilah asks me if I want to talk to Dr. C first and I say yes. I am definitely pushing with each contraction.
At 11:21pm, Dr. C arrives and has me move to my back in the tub and I continue pushing with each contraction. The room fills up with several nurses. Dr. C is not very comfortable kneeling on the step next to the tub, so they give him some towels to kneel on. He also gives the nurse all of the items in his shirt pocket as he doesn't want them to fall into the tub.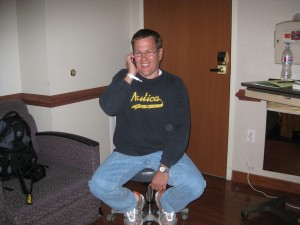 At 11:24pm, the head is at the vagina. I remember saying, "Will this pain go away when the baby is out?" I just kept telling myself I need to push him out. I am pushing with each contraction and when it stops I have a hard time catching my breath. It is hard work! At 11:27pm, about a tennis ball size of the head is out. Dr. C asks for the Doppler to check the fetal tones. The first Doppler is broken, so one of the nurses goes to find another one. 11:31pm, fetal tones are in the 130s, and Dr. C says that is all he needs. At 11:34pm, Dr. C has me touch the baby's head and tells me to push him out. With the next contraction, I push the head out (11:35pm). At 11:36pm on August 2, 2010 Christopher David is born! Dr. C places him on my chest as he suctions him. Christopher isn't crying, and I am a little worried. Dr. C takes him and gives him to the nurses. He assures me that Christopher is fine, that it is common for babies not to cry if they are cold. The nurses wrap him up and take him back to my room to be put under the warmer. Within a few minutes Christopher can be heard crying. David comes back and announces that Christopher is 8lbs 12oz and 21in long. We are all shocked, as that is the exact same weight as William. We were expecting Christopher to be in the 8lb range, but less than William.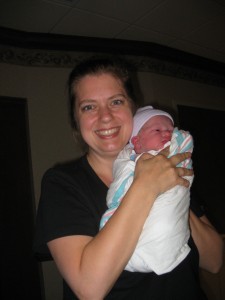 I continued to lie in the tub until the placenta is delivered. Dr. C asks the nurse to have some pitocin ready, just in case it is needed, but it never was. After I deliver the placenta, Dr. C begins pushing on my stomach and that was so painful. I never realized how hard they push in the past because I was numb, and I wasn't prepared for that at all. At 11:45pm, I walk back to my room down the hall. Dr. C starts the repair on my 2nd degree tear. By midnight things are wrapping up in my room and we begin to enjoy our new son!
The birth was absolutely amazing. I am still on cloud nine about it. I had a completely unmedicated waterbirth VBAC in a hospital! Dr. C is a godsend and I am so thankful that I had him as my care provider. I am shocked that it only took me 15 minutes to push him out. I pushed for over 2 hours with both Matthew & William, and then William was a vacuum delivery. It is amazing how much easier it is to push when you can feel it and work with your body during each contraction. Having such an amazing birth makes me want to do it all again!