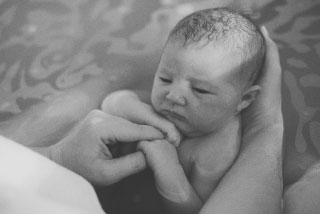 Two weeks and four days ago, I was due to have my baby girl, and I spent those two weeks in a roller-coaster with my faith from completely trusting The Lord and not worrying to "Lord, why did You have to ruin my second delivery after having such an incredible first natural birth…it's not fair that I am going to have to get induced", not to mention trying every natural induction method, only to wake up again each day to no baby. Now, I faced my midwife breaking my water on Monday to hopefully induce labor (which would have put me at 2 weeks and 5 days past the estimated due date of May 22nd). I had confidence that my midwife had waited as long as she could, and I felt peace from The Lord to agree to breaking my water. I hoped for a water birth, and even though I wouldn't have thought to write the story this way, I am glad our Maker is more creative than I am. Since the time spent laboring is cut in half for the average mom from her first birth to the second, I expected to labor for at least 5 hours. For my first birth I labored 10 hours, quite short for the average first time mom, but no one could have ever convinced me that I would meet my second baby an hour and a half after waking up in the middle of the night.
So, here is my story for my second birth that was written to be much sweeter and more adventurous than I could have ever envisioned.
On the evening of June 8th after a long walk, I threw my towel in to the Lord and said, "I give up. I've tried acupuncture, herbal teas, castor oil, Herb Start Up, sex twice a day, walking, nipple stimulation, Evening Primrose Oil vaginally and orally, yoga, talking to the baby, imagining the birth, welcoming the baby, mentally visualizing birthing the baby, getting completely relaxed, taking care of everything on my To-Do List, membrane sweeping three times, and I am emotionally worn out." The Lord has a strange way to calm my heart, but it worked. He impressed upon my heart that He wanted to show me that nothing else would start my labor, other than Him. Logistically, I wasn't buying it because in a day and a half, I agreed to walk into the birth center and get my water broken. At the time, my emotional strength had been so bulldozed over that I couldn't care less about logistics, and I was just grateful to finally be "put back together again" and set back on my brick wall like Humpty Dumpty. And, that's when The Lord came thru on His word. June 9th was the day He set aside for my baby girl to enter the world.
2:14 a.m. – I awoke without any pains, waves, or sensations other than having to pee and feeling a little anxious.  Although I thought it might be baby time, I didn't have any proof. I refrained from waking anyone up because I didn't want to waste anyone's precious sleep. Within 15 minutes, it started to feel like labor because I could feel sensations in my back when I paid attention, so I woke up Ross and told him I was about to get into the shower to see if things calmed down. I jumped in the shower, hoping the water would calm my nerves. He left for coffee and toilet paper, since we were about out of toilet paper. Like I mentioned before, I felt mild to medium contractions in my back, so I started timing them on the Contraction Master app. Because my contractions were about a minute apart, I decided to call our midwife even though they were painless.
2:45 a.m. – While in the shower, I called Joyce, our midwife, and talked to her. I assured her that I didn't have much to report other than it was starting to look like labor, so we agreed to meet at 4 a.m. Toward the end of the conversation, she asked if I were having a contraction, and I told her, "No. Well, maybe, but not that I know of. I'm just quiet because I don't have anything else to say." I couldn't actually tell if I was having contractions unless I focused on trying to notice them.
2:49 a.m.- I texted Delilah, our doula, telling her that "it is starting to look like labor."
Within minutes, my body went into full force- ready to deliver baby, and it was just The Lord and me around. Praise Him for giving Ross the inclination to send our 20-month-old daughter to stay the night with his mom to help her get used to being with Karol for a few nights. We planned to see her the next morning, but The Lord knew the next day held something else. This is why I love the pregnancy journey. When we rely on The Lord, we have every plan and expectation written out, and every time He teaches us that we truly have nothing to worry about because He's already got it figured out. We just need to listen.
3 a.m.- I fell to my knees because I suddenly felt every single contraction in my back extremely well. The water didn't soothe my body like it had in my first labor. (Now, looking back, I see that's because I was in transition.) Therefore, I texted Ross telling him to hurry. Within seconds, I was bearing down, ready to push, and that's when texting seemed impossible. The only way I could think to concisely communicate with Ross that he needed to rush (teleporting would have been a handy invention) was to text him, "Shiiitt". Of course, he got home in the mindset of our first labor, thinking that I didn't know I was in labor. This time I *knew* it was labor; I just wasn't sure if my body was really trying to push or if it were just me being too attentive. Let's be honest, the statistic is half the amount of time laboring that a mother did with her first. Being that it had only been 45 minutes, I thought I should have had another 4 hours left!
Anyway, Ross is never worried or concerned during chaotic situations like this, so when I saw a deep concern in his face, I knew I better get out of that shower and in the car as quickly as possible. His eyes confirmed that I wasn't being too attentive; I was indeed feeling the need to push. Unfortunately, I was thick in the middle of Labor Land- you know, that quiet and serene place the Lord takes you when everything is complete chaos. Ross said something just the wrong way to help pull me out and begin communicating with him. His hurtful tone was actually a blessing in disguise because it kept us from having the baby without someone more knowledgeable around.
3:30 a.m.- Although we weren't the sweetest to each other, we found a way to accomplish what needed done: get me out of the shower, dressed and put in the car. On the way to the birth center, the tune changed. The serene feeling of Labor Land merged with real life, and I calmly informed him of the delivery milestones: bearing down, water broke, she's crowning. Ross helped me keep from having the baby in the shower, in the car and in the parking lot by reminding me to breathe, rather than push.
3:48 a.m.- We arrive at the birth center. Ross checks the door. It's locked. Delilah, our doula, was waiting for us in the parking lot and she yells to not worry because she has a key, and unlocks the door. Ross rushes me inside into the waiting room. Delilah asks me to take five more steps onto the hardwood floor of the birth room, off of the carpet.
3:48 a.m. and seconds later- I walk into that room with the hardwood floor, with the glow of the lamp lighting the room, and put my arms around Ross' neck. Delilah pulls down my depends and tells me that our baby is right there. She heads to the cabinets to get gloves, and I yell that she's coming, so Delilah skips the gloves and comes back to me.
3:50- Our Doula catches the baby! Delilah caught our baby girl and led me to the bed, putting Meadow in my arms.
3:57 a.m.- Joyce, our midwife, walks in thinking she's early, since we were supposed to meet at 4:00 a.m.
3:58 a.m.- Robin, our other midwife, walks in, hearing we already have a baby.
3:59 a.m.- Alex, the assistant midwife, and Angie, the birth photographer, walk in, all shocked that I already have my baby in my arms.
The Lord came through on His word. Once again, The Lord used birth to teach me to trust Him in all things I can and cannot control. He will lead me in the things I can control, being they are within my decisions, and He will handle the rest. He knew my birth story before I ever wrote it, and He knew the perfect birth for my tender soul. The birth itself was romantic, in a sense, with my arms around Ross' neck in a room with only the glow of the lamp to light the room. It was quiet and peaceful with just my doula, husband and myself there welcoming this new creation to the world. My doula delivered the baby at the birth center only because she followed The Lord's leading to skip her normal routine and get to the birth center fast, followed by a sweet celebration with each person telling their version of the story and then holding hands in a circle to pray.  I would not have thought to write the ending of this pregnancy like He did because I'm not that creative, and I think He knows my heart better than I know myself.
Just like my first birth, I am left with this truth to allow Him to write the story: "Maybe…maybe you don't want to change the story because you don't know what a different ending holds," – Ann Voskamp in her beautiful book, "One Thousand Gifts."
I wish I could say I completely believe to "Delight yourself in the Lord; and He will give you the desires of your heart. Commit your way to the Lord, trust also in Him, and He will do it." Ps. 37:4-5 But I can only say now I am a little bit closer to believing every word of that verse. My hope is for my Meadow Kate to have trust in Him in a way I never have.