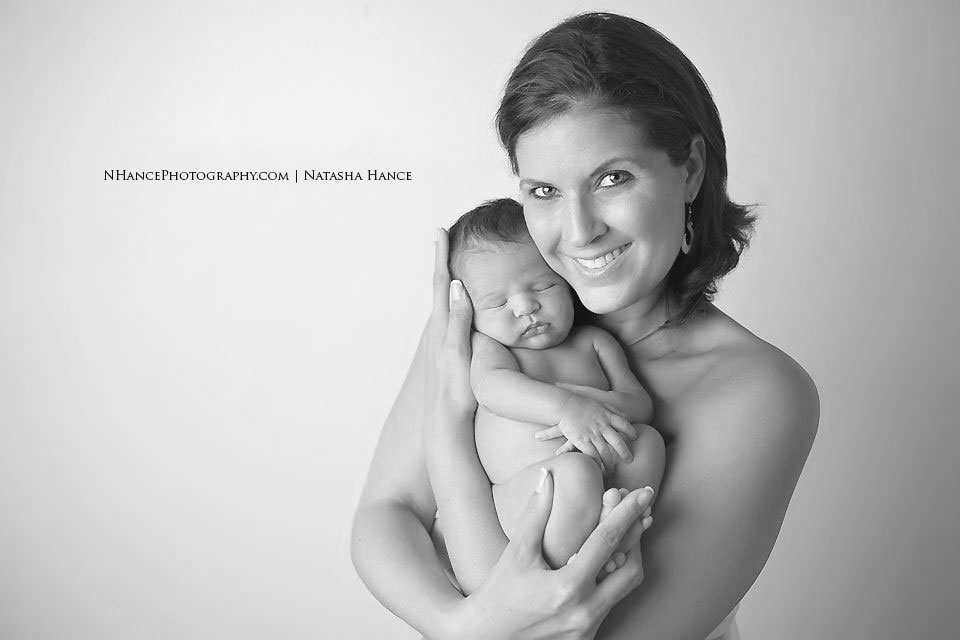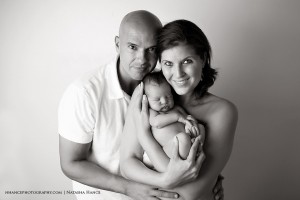 I had a plan.  27: get married.  28: travel and have fun.  29: get pregnant.
Instead, it was 29: get cancer.
And I got it bad.  I was given a 60% chance of survival.  The treatments had a 25% chance of destroying my fertility, and when I asked my doctor if there was anything we could do, he said, "Dana, we need to deal with your challenge first."  I understood.  I would be very lucky to be alive in 5 years, and the creation of another life could not be made a priority.
But, I was lucky.  Very lucky.  After a mastectomy, two years of chemo and a ravaging radiation therapy, there was no evidence of my disease.   And there is nothing like a brush with death that makes you want to procreate.  Having a child became a minor obsession, but I knew that I couldn't have a baby if I wasn't going to be around to be its mother.  That wasn't a fair burden on my husband either.
I was told that if I survived two years post treatment without a recurrence, which was in November 2012, I would have a very strong chance of survival.  And surviving meant I could be a mom!  So preparing for that fall, I went to a fertility specialist in the summer of 2012, just to see where my fertility levels were.
My hormone levels were abysmal.  I was peri-menopausal.  My ovaries had been shut down so long because of the extended chemotherapy, my body was making the transition to permanent infertility.  I asked if we could do IVF, and the fertility doctor said, "Sorry, that's not an option."  I went home with an egg donor list, but I couldn't look at it I was crying so hard.  I was greedy.  Not only did I want to live, but I wanted children with my own genetic material!
My husband, my rock, calmed me down.  We had an upcoming bucket list trip to Africa coming up that I had been planning for since I was ill, and it was my dream-come-true vacation.  After getting away from technology, the city, the multitasking, just breathing fresh desert air and working at an animal refuge, we would come back, and then think about family.
I came back with a plan.  The egg donation, fertilization, and implantation process would cost around 20k.  It would take us at least 5 years to save, so in the meantime, we could just try and see what happened.  I was determined to relax, enjoy the upcoming years of no children with travel, late evenings out, and sleeping in while we saved for our donor eggs.  I returned from Africa early to work, and by the time my husband returned, I had removed my IUD, and ready to play ball.  I knew that I had less than a 1% chance of conceiving, but why not try.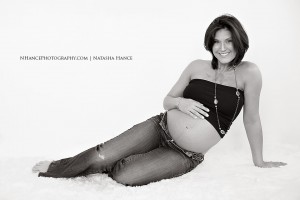 Before my husband returned, I began to take my basal body temperature, trying to learn my body.  It was a test run.  I was determined not to become obsessed with my cycle, as signals that I was ovulating could just be my body faking me out.  But we baby danced on the right date.  Once.  And 16 days later, my body temperature was telling me "You are Pregnant."  But until we saw the two pink lines, we didn't believe it.
And I needed this reminder: Doctors know a lot.  Their knowledge is why I am here today.  But they don't know everything.  Listening to your body is just as important.  Against all odds, I had been given a chance to be a mother, and I was going to do it exactly the way that I wanted to do it and what I thought would be best for my child, giving birth naturally and unmedicated, and it seemed that a doula was imperative to process.
My husband, who has now converted to Doula-fandom, first asked me, "Why are we paying for a cheerleader?  Your Mom can do that."  But, if professional athletes have coaches, why would a first-time mom do something as difficult as labor without professional support?  Success meant surrounding myself with a team that was calmer, knew more, and had more experience than I did.
I met Delilah for an interview 5 months before the baby was due, and my "interview" turned into a two hour conversation with what seemed like an old friend.  I was so happy she had room for one more baby in May.
Oddly enough, I picked my doula before I picked my midwife.  As Delilah had attended over 250 births, she had worked with or knew everyone in the metroplex.  She helped me whittle down the options, and gave me frank advice on what kind of experience I would have with the various options I was considering.
For a combination of different reasons, Lovers Lane Birth Center in Richardson was the best fit for my needs.  But after attending Delilah's natural childbirth class and with two months to go before the due date, I became more and more confident that having the baby at home would actually be a better and more comfortable option for me than loading myself into a car to give birth at a birth center.
I imagined a quiet calm birth, where I would use hypnobirthing techniques to breath my baby out into a birthing tub.  I would have labored by myself for most of the day, and my inner calm would have allowed me to reach 6 or 7 centimeters in a relaxed environment, before I called the doula, midwife, and birth photographer.  Everyone would arrive, and maybe an hour and a half later, I imagined myself silently and stoically pushing my baby out into the warm water.  I would be so calm I would be able catch my own baby, lift him onto my chest, gaze in wonder and marvel at the creation of life, and have the photographer catch the peaceful yet amazing moment on camera.
Wrong…!
Pre-Labor (contractions every 10-8 minutes) started during an awards ceremony for my husband that I was attending the night before.  I was able to talk and laugh through them, and I was super excited.  But by 3 a.m., the contractions were getting to every four minutes, and I began texting Delilah, who responded all night long.  By 9 a.m. I was exhausted from not sleeping and dealing with the pain, and the contractions began to hurt so bad that I thought the baby was coming in the next couple hours, so I raised the flag and asked Delilah to come.
She got there, and in my husband's words, "an immediate calm settled over Dana and the house."  After an hour or so, Delilah helped me make the decision to call Kristine, our midwife, and Natasha, our birth photographer.  My contractions were every 3 minutes, and about one minute long, but by the time everyone arrived at 11 a.m., I was 6 cm dilated, but the contractions had slowed to 8 minutes apart, accompanied by an excruciating back pain.  It seemed as though our little bundle of joy had decided that maybe sunny-side up would be the best way to greet the world, and the back of his head pushing on my spine was making the labor 10 times worse.  My body's reaction to the change in position was to slow the contractions down, but not make them any less strong.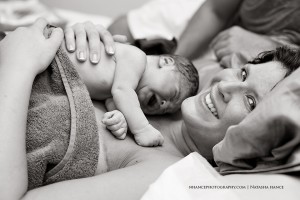 Delilah conferred with Kristine, my midwife, and for several hours we tried various different positions during my contractions to help persuade the baby to turn around back into the anterior position. This was ridiculous.  The last thing you want to do during labor is weird yoga lunges and downward dog positions to jostle the baby into the right spot, and I was not a happy camper.  By 2 p.m., I had only dilated 1 more cm, but the contractions were speeding up again.  It seemed like all the yoga had done something, and now my body was ready to get this little boy out.  At 3 p.m., the exhaustion was catching up with me, and I was getting cold, even though I was later told it was quite warm in the room, and I wanted to get into the birthing tub.
The birthing tub wasn't all it cracked up to be.  The water kept getting cold, and my mom had to keep pouring boiling water in.  If she happened to do this when I had a contraction, or if ANYTHING happened when I was having a contraction, it made me so irritated I wanted to punch someone.  My husband wasn't in the tub with me, and there was nowhere to comfortably sit without my legs straight out in front of me.  I could lie to my side, but that strained my back.  The best position was kneeling with my arms over the edge.  So much for catching my own baby.
I began to feel an urge to push at the top of each contraction, but I didn't put my full force into it, since I wasn't sure if I was imagining an urge because I wanted this labor to be over so badly.  The urge never got stronger, my contractions didn't get closer together, and at 5:00 p.m. I was getting slightly annoyed that nothing was happening.  I asked my midwife to assess me, and because my water hadn't broken yet, it was difficult to feel the skull bones of the baby to see if he was anterior or postior.  However, they could see something lumpy, like a bow or lip of the cervix that wouldn't recede, and therefore, I couldn't dilate completely.  The cervical lip had swollen.  An hour later, after pushing with no progress, my midwife reached in to manually slip it back over the baby's head (yes, that felt about as wretched as it sounds) but as soon as the contraction was over, it just slipped back.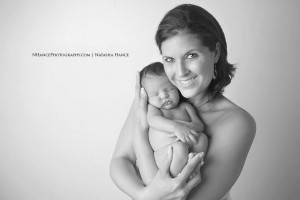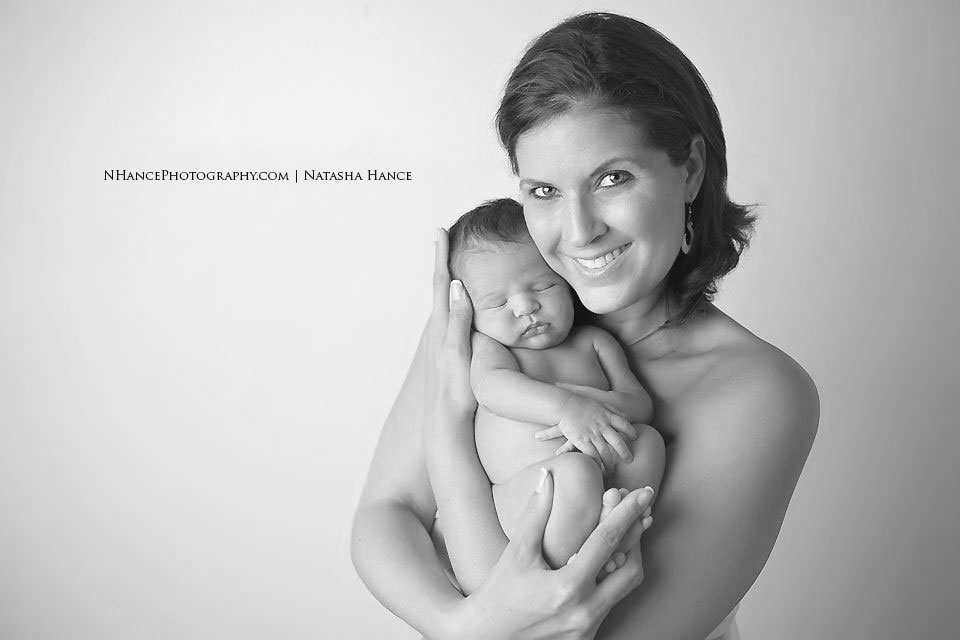 I was given arnica to reduce the swelling, and told to "blow through" my next contraction.  I thought that meant, "push as hard as you can to blow the baby out," but everyone stopped me from pushing to clarify that it meant "breathe through" the contractions.  It was miserable.  Not reacting to the contractions took a lot of mental will, and the lip was stubbornly refusing to recede.  Suddenly, during a contraction, I heard a loud thump muffled by the water.  I was actually quite surprised when the midwife announced that my water broke.  I literally had no idea what the noise was, and completely forgotten about the probability of my water breaking.
Once my water broke, the midwife confirmed that the baby was face down, and I felt the biggest urge to push again.  I still had an anterior cervical lip, but I was told to lie back and squeeze my right thigh to my chest during the contraction.  My midwife looked, and confirmed that I was 10 cm dilated and the baby was +2.  But my midwife suggested that I get out of the tub and get onto the bed, as I think everyone could see that I was not that comfortable in the tub anymore, but was only staying there by default.
I tried to stand up and get out of the tub between the contractions, but after being supported by the water for so long, it was the most painful effort to support my own weight.  My body responded by having a contraction immediately, and I came down on my knees.  Someone suggested that I shouldn't wait to move in-between contractions, but that I start to move on the downside of a contraction so I could get to the bed by the time the next one started.  With help, I did just that, and collapsed on the bed, freezing.  I was toweled off, and my wet clothes were peeled off of me to reduce the chill (remember, the room was very warm).  I should have planned a better water tub outfit (like a bathing suit), but I didn't consider that I would want to get out of the tub in the final stage of labor and not be able to take off my own clothing and then be freezing.
So at 7:03pm I had one contraction while bracing my leg on my doula's shoulder, who leaned into my push as I pulled on her hand to counter.  Later, she'd show me the bruise it caused!  At 7:06 I had another contraction, and I was asked if I wanted to feel the baby's head.  I reached down, and was disappointed that all that I could feel was a silver dollar size of my baby.  I had expected more, like the entire crown!  But the next minute I heard very far away, "Dana, the baby is getting tired."  Later, my mother, who was standing outside the bedroom door, would tell me that she could hear the heartbeat slowing down on fetal monitor.  When I heard those words, I gritted my teeth and pushed twice more, and the head was out!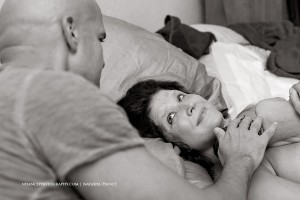 The ring of fire wasn't that bad, but I do remember feeling myself tear a little, but it didn't hurt, I was just aware of the sensation.  I had to push hard four more times, but Sebastian's body slid out one minute later and he was placed on my chest.  However, he didn't make a sound, and a minute later he was taken away and rubbed vigorously and given oxygen that the midwife brought with her.  This didn't upset me, in fact, I was so tired I think all I could do was watch, but I knew he was fine, only as tired as I was. One minute later, he let out a long lusty cry and I had my little boy in my arms and where he would stay, at least until daddy gave him a warm herbal bath a couple hours later while I ate some food.
My home birth was long, wonderful, and incredibly bonding experience for my husband and me, and an incredible testament of to what the human body is capable.  My life has been defined by the paradox of trying to eradicate a mass of dividing cells, to embracing the capability of my body to create an egg that would divide and divide a million times over and become my little boy.