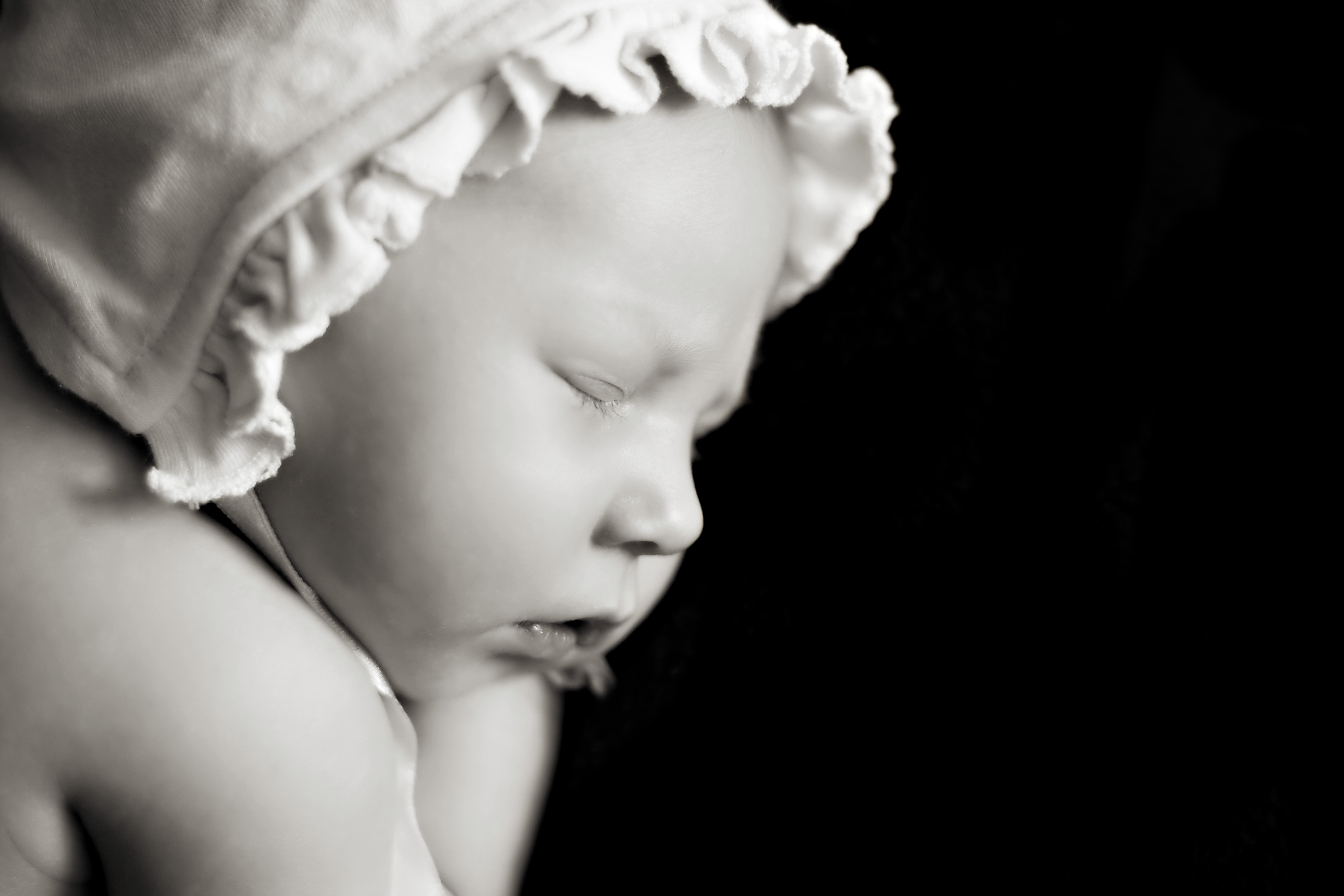 Hannah Kate Brooks- Born by unmedicated VBAC on 11/2/2009
The night before Hannah was born I felt so defeated. I was heading into an induction the next morning, one I didn't want. I believed my body knew how to go into labor on its own…but… it hadn't… and I didn't really have any other options at this point. I was 42weeks and 2 days, 16 days past my due date, and my baby just hadn't come out. We had tried EVERYTHING. I put off going to bed, holding out to go into labor sometime before my 6am appointment with Pitocin. I didn't go to bed until after midnight, and when I did, I went and got my sweet sleeping not-quite-2yr old out of his bed and snuggled him up in mine. I don't think I prayed anything. I'd prayed for most of my pregnancy that God would prepare my heart for the birth I would have, and I sure didn't feel peaceful about what was about to happen. I had a heavy dreadful feeling that I would end up with another c-section, and I'd be the one to blame, for going into an induction I didn't want to have. I don't know when I went to sleep, but I woke up at 3am and realized that I'd forgotten to print out my bible verses I'd collected months ago for my birth. My intention had been to have them to meditate on during labor, and I knew now more than ever I'd need them. I was surprised that in all my planning and preparing over the last month, that I'd never even thought of them again.
Since my mom was asleep in the room where the printer is, I decided to write them out on post-its. That would be easier to use anyway. As I pulled them up in the quiet, I willed the clock to stop or my water to break- something. As I started reading them, praying them, I realized that all of them were perfect for how I was feeling. They were about not being fearful, how we're not alone in time of trouble, etc… I stopped and wondered, why would I have chosen these?? Months ago, I had been certain that I'd have a beautiful home birth. I wasn't afraid of that. I hadn't anticipated being fearful or having things go wrong. Why would I have chosen these? I just kept reading them, writing them, praying them. It became clear to me that these verses had been chosen with this very situation in mind. I hadn't known that I'd be here, but Someone had. When I finished, I tucked my tear stained post-its into my purse, knowing that they had already served their purpose, and probably wouldn't be needed again today. I went and got in the shower, feeling peaceful. I wasn't excited that this was what I had to do. I wasn't glad. I wished it wasn't. But it was, and somehow, I would get through it. I wasn't alone.
5:35am – I kissed Jaron's sweaty sleepy head, and we left. I texted Delilah to tell her we were on our way after we picked up some breakfast. She said she'd meet us there. TJ and I chatted on the ride. It wasn't the "dead man walking" atmosphere I had pictured the night before. We talked about what the baby would look like, how big she would be, we even joked about what the hospital would say if we showed up late for our scheduled induction time: "Oh, sorry, you can't have your baby today. Go home." Wouldn't that be nice?
6:05 am- They must not have been busy, because 3 nurses came and hung out in the room with us, joking about how big I was and was I sure it wasn't twins. They poked fun that I'd chosen an orange shirt, and didn't I know Halloween had already passed?? We all laughed that my October baby would be a November baby. Delilah was on her way up. The nurse handed me the hospital gown and pointed to the bathroom. I took a breath, knowing that this would be the first of many "battles" today. I calmly said that I would prefer to stay in my own clothes for a while, expecting an argument. To my surprise, she said "Okay!" and that was it. I felt myself relax just a little… maybe this wouldn't be quite so bad… In the next hour I answered questions, signed forms, got blood drawn, got hooked to monitors, etc..
7:15 am- Dr. Downey came in. He suggested breaking my water to start things off, but I just didn't feel at peace about that yet. He was agreeable, much to my relief. We agreed to start the Pitocin at 1, and go up by 1 every half hour, and I said I'd probably be ready to break my water after I had a good contraction pattern going. He agreed with my request to try and turn Pit off once contractions were coming good, then off he went.
7:40 am- Got my IV. Ouch. It bothered me ALL DAY.
8:02 am- Pit started at 1. Now we wait. Nurse checked me and she thought I was 2cm, 70% effaced. I started to get upset since my midwife had thought I was 3cm, 90% for the last 2 weeks, but Delilah assured me that it's just a difference in the person that's checking, and that it didn't really matter.
8:55 am- Had my first contraction of the day. I was not optimistic. It was much milder than those that I'd been having at home for the last several weeks.
For the next several house we just sat around, watching TV, chatting, and me sneaking bites of whatever T was snacking on. I tried not to be discouraged, but the contractions that I had were not nearly as strong, or close together, or consistent, as they'd been at home. I tried to not think about it. Mostly, we were just bored.
12:35 pm- Dr. Downey stopped by. He checked me: 3cm, 80%, 0 station. I realized that my hope for a late afternoon baby and a visit from my toddler in the evening was probably not going to happen. Still didn't want to break my water, and he was fine with that. At this point the Pit was at 10 and contractions were about 3 minutes apart, but very mild in discomfort. I decided to try and nap while I could. Delilah agreed since the IV was still bothering me more than the contractions.
2:00 pm- the contractions were 4 minutes apart. The contractions were getting uncomfortable, mostly in my back, but I was still talking and texting during them. I was in the rocking chair, and Delilah was sitting near me, chatting when I wanted, staying quiet when I got quiet. Just her being close made me feel supported and safe.
2:45 pm- Delilah points out that during contractions I've started closing my eyes and breathing, and I stop rocking. I wonder if maybe things are finally starting to get somewhere. It's very calm and quiet in the room, and I like it.
2:53 pm- Nurse comes in and is happy with contraction pattern. Baby looks great, and we talk about that blood pressure cuff that keeps cutting off the circulation to my arm every 15 minutes. My husband is still snoozing.
3:30 pm- I tell Delilah we should play cards or something. Sitting around all day has gotten boring; I'm getting antsy, and trying not to get emotional. I get up to go to the restroom, and when I get back I'm feeling shaky, so I decide to eat a granola bar. I still am not sure why we didn't get the cards out! That would have been a cute picture. Ha.
4:00 pm- I realize I'm stopping and breathing during contractions. They're hurting my back. I still know that I've had stronger ones at home, but these are more consistent, and maybe, just maybe, they mean we're getting somewhere. Delilah starts talking about whether or not she should go get food now, or later. After a contraction, I just start crying. I'm not going to see my little boy until tomorrow. We've never been apart for this long, and never overnight. I miss him. Then I feel silly for crying about it and laugh. Delilah comments to TJ that irrationally emotional is a great sign, and she's going to get food now rather than later.
4:42 pm- Delilah is back.
4:50 pm-Midwife arrives. I'm on the bed again, trying to rest. We all chat for a few minutes, and she messes with the monitors trying to get baby to show up better so that the nurse will leave us alone.
5:28 pm- Dr. Downey is here. I am hopeful that we've had some change since the last hour or so has been getting increasingly more convincing. We talk about breaking my water, and I say let's see where my cervix is. I was SO disappointed to hear that it had made NO change! I'd been here for almost 12 hours and I was still exactly where I was 2 weeks ago. I want to cry. I want to go home. Mostly, I want to scream at my baby "GET OUT!" I'm becoming afraid that I'm looking at a failed induction, even though no one acts worried in the slightest. I'm pretty sure that everyone was hoping I'd let him break my water though. Nobody wanted to sit here for 4 days waiting for my cervix to decide to do anything. Midwife says she thinks it's a good idea. Dr. Downey thinks it's a good idea. I look to Delilah to tell me what the right thing is, but of course, she won't make that decision for me. That's not her job, and as much as in the moment I really want someone to make this decision for me, I'm forever grateful for her commitment to keep me as the decider. It's empowering, even if it's scary. I think I probably should want to. But I just am not ready. My heart is not ready to do that. I wanted to feel the peace about it that I'd felt this morning about the Pitocin, and I didn't yet. I was certain that when the time was right, God would show me. Dr. Downey agrees.
5:51 pm- I'm laying on the bed, talking to Delilah, my midwife, and TJ about the pros and cons of having my water broken. All of a sudden I feel a POP, and I yell out and grab my belly. For a split second I thought that my scar had popped open, but I had no pain so I immediately threw that thought out. Nothing happened. Everyone in the room had jumped up and was asking me if it were my water, did I have pain, etc… I assured them it wasn't my water because nothing was coming out. Nothing had happened. We decided that it must have been a really strong punch or something. Very weird. So I kind of chuckle and start to sit up, and GUSH, there is a TON of warm fluid. I laugh and say "Oh, I guess it was my water! There's a ton of it!" Everyone jumps up and wants to see, Ha. MUCH to my surprise the fluid was clear! I'd been told to expect meconium from my 42+ week baby, but there wasn't. That really made me feel good because I knew that would let the staff relax a little. I'd been worried about it.
-next contraction- WHOA. Big difference. Delilah jumped up and said "NOW we're in labor!!"
5:58 pm- I'd had two contractions post rupture of membranes and I said "Okay. NOW they hurt."
6:01 pm- My midwife set the head of the bed up at a 90 degree angle and I leaned over that on my knees. I think that was probably my favorite position the whole birth, as I kept going back to it. I was surprised at how little I noticed pain in my belly, where I'd expected it, and how much my back hurt. I was feeling shaky and just really overwhelmed with the sudden change. In a matter of minutes we'd gone from laying around chatting and watching TV to being in active labor. I felt SUCH relief that I hadn't let Dr. Downey break my water. We all knew that God had just worked in the room, and that's a cool feeling. I feel like He had said "Hey! I'm here! Let's have a baby!" Delilah came over, gave me a hug, and said, "This is what we've been waiting for, this is what we wanted!" I think she also prayed over me. So I cried happy and relieved tears, and then got on with the job at hand- I was having a baby today!
6:17 pm- Someone suggested a popsicle, and I decided that sounded pretty good. Delilah asked me who should leave the room for it, and my response was "NOT YOU." I don't even know who she sent… ha. I had a red one. It was cold, which I liked. I don't know how many contractions it took me to eat the thing, but I remember TJ holding a Styrofoam cup in one hand, and feeding me the popsicle with the other hand. Then he'd put it in the cup during contractions. Good system, babe!
6:23 pm- Now I was leaning over the end of the bed and Delilah and TJ were really working at trying to help with my back. Delilah was great about doing counter pressure. TJ really wanted to help, but so far, he hadn't caught on. I really wanted to tell him to just leave me alone because he was doing it wrong, but I appreciated his effort, so I tried to coach in between contractions what wasn't working, what might help, etc… I think Delilah finally told him to stop asking me "Like that? Right there? Higher? Lower? Am I hurting you?" Thank goodness. TJ just didn't want to push as hard as he needed to I think, or his hands were too big, or something, but bless his heart, he was trying so hard. She was so patient with him, trying to help him figure out what I needed, and balancing that with wanting to help me too. I just wanted to cry. While they were messing around back there trying to figure out what they were doing, I was having contractions. Hello! Would he just let her do it already?? Even in the middle of being frustrated, I was taken aback by his willingness and desire to help. That's love, and I thought distinctly "He really does love me a lot!" Ha, what a strange thing to think mid-labor, right?
6:30 pm- the new nurse came in and disconnected the Pit line and gave me a Hep lock. It didn't stop the annoying pain in my arm, but it was one less wire to drag around, so I was thankful!
6:35 pm- Around this point I ordered the TV turned off. It was awfully noisy in my room, and I just wanted it off. In my head my request sounded like "Hey, can we turn that off, please?" but it came out more like "Teej. Turn THAT off." Whoops…
6:53 pm-I tried squatting. It really didn't feel great, but I thought it might help push her down more, which, after all, is the goal, right? I did that for about 2 contractions and then was done with that. Ha. I tried kneeling on the floor instead and leaning over the foot of the bed… Why I didn't just climb onto the bed and lean over the head of the bed like I'd been doing, I don't know. TJ and Delilah rushing around to get a pillow for my knees, or something to kneel on so I wasn't on the germy floor, and I was thinking that I could care less about the floor right now. Like I cared about germs right now?? And I KNEW they were doing that because I'm typically such a germ freak and had even talked about it in my birth plan…but man, I SO did not care. But I very much appreciated their vigilance to handle the little things.  When they got that settled they went back to the counter pressure. They seemed to have a system figured out where they both were doing something, and it was working for me. Whoo hoo!
7:18 pm- Now this cracks me up. I have no memory of this, but Delilah's notes say that the nurse came in and was talking about forceps and rectal tears?? LOL, SO glad I didn't hear that!! I would have run for the hills, I think!
7:39 pm- Delilah was trying to figure out where I needed the pressure now (it kept moving, darn it!) on my back. Actually what was killing me was my butt! Basically, she ended up pushing on either side of my tailbone with her fists. It really helped SO much, and bless her for being willing to do it. After that contraction, we had a good laugh about how in her next childbirth class she would say "And then there was this weird lady who wanted me to push my fists up her butt!" Hahaha….maybe you had to be there.
7:50 pm- I moved back to the kneeling position over the head of the bed.
8:06 pm- I decided I was cold, so they put a blanket around my shoulders. I think we ended up pulling it off during contractions, and then putting it back between. I realized I was TIRED and thirsty.
8:18 pm- Delilah suggested that even though this position was working for me, maybe I should try side lying again so I could rest, and the midwife could assess the position of the baby. I REALLY didn't want to. Laying down hurt! But she assured me that I'd find my groove after a few contractions… so I slowly complied. I moved so slowly in labor. It did feel good to rest in between, but the contractions were definitely harder that way. I felt myself start to get a little discouraged because it was only 8, only 2 hours since my water broke, and I was working really hard. I knew I was tired and I probably had many hours left to go. So I did my best to rest between the contractions, and to try and calm my mind. Over the next 30 minutes things got harder and more intense. I thought it was my position maybe. I remember at one point hearing Delilah and TJ say that the last 2 hours had gone by really fast, and I just thought "yea, but we have a long way to go, so don't get too excited there."
8:50 pm- TJ got the rice sock and they tried that on my back. The warmth felt good, but really, nothing was helping much anymore. I was feeling increasingly overwhelmed. This had gotten really intense, and I was so tired. I recognized my emotions as looking a lot like transition, but I knew it had only been a few hours, and after weeks of being 3cm, there was no way I was actually that far already. I knew I just must be a big wimp and I really needed to get it together or I would never survive this. I had to get up off that blasted bed so I decided it was time for a pee break. On my way up (why is it so hard to MOVE when you're in labor?? It was such an effort to get up…) I had 2 contractions, and ended up back to my favorite, kneeling over the head of the bed. Being upright like that made the contractions more intense, and I was shocked to feel my body try and give a little push at the peak of the contraction! I didn't tell anyone, certain they'd tell me it was too soon. I was in my head: "Okay, really, Kirst. Get a grip! You can NOT let your body do that. You'll swell your cervix and then the baby will never come out and you'll have a C-Section, so get a grip already! Things are going to get a lot worse before they get better. Get a hold of yourself!" pm
9:02 pm- TJ got me to the bathroom. I made him shut the door best he could. He said "You're doing so good, babe." I said "How do you know??? No, I'm not. I'm losing it! This is hard. I don't want to do this anymore. I just want her to get OUT." (again… Transition anyone? Nah, not me… ). A few contractions later (and no pee), Delilah stuck her head around the door and said "Kirst? Are you feeling like you need to push??" I knew they'd heard me grunting at the top of contractions, trying my best to calm myself down and not let my body push at the peaks, knowing that if I'd just get a grip, my body would stop trying to do that. I answered. "Yes! *crying* And it's too soon!" The midwife checked me on the toilet and said her guess was 7-8cm. I thought "yea right." Ha! I was holding on to that denial for all it was worth.
9:26 pm- I was doing the slow dancing thing with Delilah. I said something about thank goodness she was short like me so we could do that. TJ is way too tall for that. They were trying to convince me that it was okay to let my body push if it wanted to, and that maybe I should get checked. They were all sure I was farther than I thought I was. I protested, but finally said ok.
9:29 pm- I don't want to. I'm over it. I want to go home. The nurse said something about being in stirrups to push because if I wasn't, the shoulders would get stuck, (WHY do people say such negative -and WRONG!- things like that to women in labor?? And furthermore, why do they wear so much perfume?? Good grief- one of my most vivid memories of Hannah's birth is the dang perfume on that nurse. Blech.) I decided then and there I wasn't getting in that bed and I definitely wasn't using the stirrups. Ha. I was so in my head.
9:35 pm- It seemed like a crew of people showed up, started making noise, turning on lights, setting things up, etc… I was still just hanging out, appreciating the fact that I thought it seemed like the breaks between contractions were getting a little longer, and still fighting my body trying to give little pushes at the tops of contractions. I kind of wondered why everyone was in there already… didn't they know we had all night? They must not have any other moms in labor right now. I wanted to kneel over the head of the bed again.
9:45 pm- Somehow they convinced me to get on my left side. I really didn't want to. I think the nurse wanted to see me push. Then she announced she was calling Dr. Downey. I was still in denial, thinking it couldn't possibly be time, but by golly, it was getting really hard to fight my body. Delilah started some perineal herbs warming in the crock pot. I just kept saying I wanted off the bed because I didn't want to tear.
10:09- Dr. Downey was there.
10:12- He wanted me to bear down while lying on my side. I did halfheartedly. I didn't want to tear, and really? It's only been 5 hours.. They must have all lost their minds… but you know, the breaks between contractions ARE longer. I heard myself snore in between contractions once! I realized I was listening to a conversation about my needing to pee, or my bladder being in the way, maybe they'd do a catheter?? Heck no! I'll go to the bathroom thankyouverymuch. Delilah said we were going to the bathroom, alone, and shut the door behind her.
Come to Jesus Meeting- It went something like this: "Kirst. Did you see everyone out there? They're all out there getting stuff ready because they're expecting you to come out of here and push your baby out. Vaginally. This is what you want! You're getting it! Your baby is coming out. I know your back hurts. I know it's hard. Guess what will help? Getting the baby out. So just push her out! You're right there!"
Bless her for knowing that that was what I needed. Focus. Straight talk. I had to be convinced.  There was so much going on out there, and so much in my head, but when she took me in the bathroom, everything finally got quiet, and I could focus, and breathe a little, and wrap my brain around what I needed to do. I finally let myself believe that this was actually happening. It felt surreal. I let my body push, and man did it ever push. I'm still amazed at how intense that feeling was. I'd always thought the "urge to push" probably felt like, "hmm, I feel like I need to bear down." But it was so involuntary and intense. I don't really know how people can be "good" or "bad" pushers… I didn't feel like I had any control over it. I thought to myself, if I could keep myself quieter, they wouldn't realize what was going on, and maybe I could just push her out in there, and Delilah could catch her, we would just sit in here, holding the baby in the quiet. It'd be our little secret. (I didn't tell Delilah this, I know she's not in the business to be catching babies and I knew she wouldn't have gone for that plan! Ha.) After a few contractions, and obvious pushing sounds coming from the bathroom, someone came and told us to get off the toilet. I think it was about 10:30. It was slow moving from the bathroom to the bed. I wanted to delay that as long as possible.
10:36 p.m.-  As I got to the foot of the bed, pushing, my midwife looked and said "OH yea, we have a head!" Crowning!? Already!? Awesome! That means I'm almost done! That made the climb onto the bed rather interesting though! It seems like I pushed twice once I was on the bed (and no my feet weren't in stirrups!). I looked up and saw Delilah standing behind my midwife, camera in air, aimed and ready. Wow, everyone can see my lady bits can't they? Delilah smiled and nodded at me, and I pushed again. TJ said "I can see her head babe! It's so cool! You're almost there!" Two more pushes and she slithered out! TJ seemed so amazed at what had just happened, as was I!
10:40- Baby Hannah was here! We did it!  Did you see that!? Thank you, Lord!
Hannah started rooting around and latched within 15 minutes of her birth. I was amazed! She never left my chest. Hannah was, and is, PERFECT. I held her and she nursed until 11:09 when I told my midwife I was ready for her to get her weight. I was in love with the control I had. It was MY baby and no one was doing anything to her that I didn't agree to and oversee. It was my idea, and it only happened when I was ready to let her go. So different from Jaron's cesarean, where I barely saw him after they cut him out, and then we were separated for almost 3 hours! We all took guesses about her weight. Everyone was saying she was so big, but she seemed so tiny to me. My guess was about 8pounds3oz. TJ guessed 8. When my midwife put her on the scale she laughed! "Oh my! 9 14!" I said "no way!" I made them show me the scale; I didn't believe her!
Then I got Hannah back and she nursed until TJ gave her a bath at 12:10am. Hannah never left our room, and either TJ or I had her the entire time. I just was amazed at all the things I was experiencing with her that I'd missed with Jaron, and was SO thankful that I'd just VBAC'd a 10 pound baby! I was also really impressed that I got up, went to the rest room, walked around the room, took a shower, etc… I'd JUST had a baby! It was amazing, and an overwhelming feeling of thankfulness and peace surrounded us. I'm so blessed that the Lord delivered exactly what my heart desired, a healthy normal vaginal birth. He did exactly what I needed, exactly when I needed it, and He got me through.
When I started planning my VBAC, I think I expected it to "heal" me from my C-Section, but along the way, in great part due to Delilah being an amazing friend and support, I let go of that. I didn't need one birth to heal another. Jaron's birth was what it was, as would this one be whatever it was. The things that I missed out on with Jaron, and the pain that those things left, was real, but I came to a place where I could let myself be disappointed about it, but let it go. I knew that if we had another baby, I would plan for a homebirth again, and I would hope that we get it. But I also knew that I would go into that birth knowing that it will be what it will be, and that God would give me what I need to get through it, just as He always does. TJ and I also agreed- we would never have another baby without Delilah there! She was such a blessing, and I was sad that night when she went home for some much deserved sleep!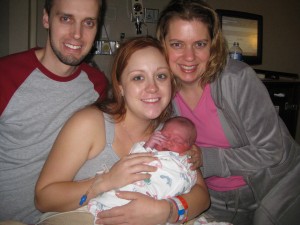 Hannah's birth summary:
SROM at 5:51pm
Time of birth 10:40pm.
Total: 4 hours and 49 minutes. 9 pounds, 14 oz
21.75in
Head- 14cm
28 months later…
Levi James Brooks- Born by HBAC on 2/26/2012
I think Levi's birth story really starts Wednesday night. I had been wrestling for a couple weeks with just a lot of anxiety, emotions, moodiness, etc… I was anxious about going into labor on my own, I was nervous about going past 42 weeks again (that's seriously a really long time to be pregnant!), I'd been having contractions since December and was physically just so tired. I just really needed an emotional dump, so to speak.  So I sat down after the kids were in bed and TJ was gone to Bible study, and poured my heart out to the Lord. I prayed, I cried, I laid out all of my anxieties, emotions, fears, and desires. I just felt like I had grabbed up all of these things that had been flying around in my head and my heart, boxed them up, and handed them over to Him. Then I finally felt peace.
Thursday I had such a good day! I was in a good mood, I felt peaceful and happy and productive. I cleaned my house, hung out with the kids, cooked, enjoyed my day, and spent the day just speaking to the Lord, thanking Him for all He had planned for me.
Thursday night I had some "bowel cleansing" and cramps. It was just enough to keep me really uncomfortable all night and I didn't get much sleep at all. I woke up Friday morning feeling tired and less peaceful and happy than yesterday. I just felt like I had to get out of the house, so I texted my friend Jen and we arranged to meet up. We met up and visited while our kids played. My stomach felt off all morning, but after I ate I did feel a little better. We spent the afternoon walking around and chatting. I had little contractions all day, but there was nothing unusual about that. Before heading home we went through Target and I finished getting a baby gift for a dear friend. I suddenly really wanted Mexican food (Chuy's, Yum!!) for dinner, so off we went. On the ride there I had a super uncomfortable contraction that made me squirm, and then at dinner had several more. They continued all night, and again I did not get much sleep.
Saturday morning, I finally got up at 5am. I was tired of sleeping in between contractions so I got up to time them just out of curiosity. I didn't expect my baby for several more weeks yet so I was pretty sure they wouldn't do anything, but they were definitely stronger than the contractions I'd been having in the previous weeks. For an hour I did laundry, cleaned the kitchen and contractions were consistently 6min apart and a minute long. Ooooooooooh. I was intrigued and maybe a tiny bit excited. I decided to lie down for an hour and see what happened to them then. When I lay down they spaced out, but were so incredibly uncomfortable to handle laying down that I only made it through 3. I could not stand lying down. I emailed Delilah and told her to text me when she got up; I wanted to run past her what was happening. I was pretty sure it wouldn't be anything, but again, they were definitely stronger/more uncomfortable. These were different. I got showered and ready, did more laundry, ate breakfast, etc, and by about 11am I was leaning over counters/tables and breathing through contractions. I didn't know if they would really turn into labor or not because they were pretty erratic- 6min, 15min, 10min, 5min, etc.
Around 1pm I was feeling annoyed that this was obviously not real labor, and pretty grumpy. We went to Costco around 2pm and that was fun. People look at you really funny when you are huge pregnant and keep leaning over the cart breathing through a contraction! Ha. We went home, got everything put away, and I was just feeling so exhausted, I went up for a hot bath and then laid down to try and nap. The bath did feel okay, but I just couldn't sleep through contractions. I think I laid texting for about 45 min and then had to get up. We did dinner, got the kids to bed, and then I climbed into the recliner downstairs. My contractions were so uncomfortable, but still irregular. I was convinced that since they hadn't taken it to the next level by now that it must just be prodromal labor and that I'd have them like this for weeks. That was a bummer to think about! Ow!
Around 9pm I was laying in the recliner crying in between contractions (Sooooooo tired, I was on 2 nights of almost no sleep and it was becoming pretty clear I wouldn't get much sleep tonight either). I was frustrated, but mostly just exhausted. When a contraction would hit I would jump up and lean over the chair. I found that a sort of semi-squat helped some. I really wished and prayed that real labor would start so I could have my doula come to help me through these contractions. I was determined not to call her to come until I was sure I was in labor, and I was pretty sure I was not.
TJ went to get me some Olive Garden soup, and he talked to Delilah, who suggested I take some Tylenol PM and try to sleep. After I ate my soup I did take the Tylenol and went and sat in the bath. I cried through some contractions, said a prayer, and put myself to bed. By the grace of God I was able to sleep at least in between contractions and I think they spaced out closer to 20min. When they would hit I'd have to roll quickly onto my hands and knees and breathe through them, and then could lie back down and sleep until the next one. At 2am, I wasn't going back to sleep anymore, and Hannah was awake. I knew I could not deal with these "Braxton hicks" and have her smothering me, so I tried kneeling on my knees on the side of the bed and leaning over the side so that she could still lay by my head/face/arms and hopefully go back to sleep. But I was starting to moan through these contractions, and she just couldn't fall back to sleep. She kept saying "You okay momma" and patting my arm (awww). Around 2:25am I went to the bathroom and noticed mucous plug. I texted that info to Delilah. I stayed in the bathroom at that point, and Hannah hung out with me, singing, talking, etc. It was a really sweet time, and she was so sweet during contractions.
Around 4am I had bloody show, the contractions were really uncomfortable and I started thinking that maybe this really was labor. I texted back and forth with Delilah, and all of a sudden the contractions were more like 3 min apart and I was feeling pressure, a little shaky and a little nauseous. I had been able to kind of converse and all of a sudden I could only manage a couple word texts.
I said "can you just come?" at 4:15am and she said "Yep!" Ahhhh, I knew I'd feel better when she got here. I put TJ on phone duty, asked him to time the contractions while I was in the shower, and then when he had a good idea of their frequency to call Delilah and ask her if we should text the midwife. (OH yeah. MY midwife was out of town!! No one expected me to have a baby in February, so she was out of town! So I got a back up midwife.)
Apparently Delilah told him yes because before I knew it he said everyone was heading over. I labored in the shower for a while, really vocalizing at this point, and getting frustrated that there isn't really a good place to lean your weight on in our tiny shower!! I remember saying more than once that I hate our shower. Lol. But the hot water on my back felt good. When I was getting out of the shower, TJ asked me when my midwife was going to be back that night, and I said "I can't wait that long!" I found that picking up my legs kind of in a stair stepper fashion helped with the pressure in my booty, but like last time, was in denial about what the pressure meant…. I also remember crying that I had done my hair and makeup yesterday, and now I looked like a hot mess. Ha.
At 5:05am Delilah arrived, and I was downstairs leaning over the kitchen counter. Hannah was on the couch watching Cinderella, and Jaron was still asleep in our bed. The midwives both showed up within about 10 minutes. It was starting to feel very surreal. Was this really going to happen?? One midwife listened to baby- he sounded great. Delilah asked me if I wanted to know what my cervix was doing, and I said no because I was guessing I was only about 3cm. She said she really doubted it was 3cm. TJ and the midwives went upstairs to get the bed made and all the supplies gathered.
About 5:30am I decided to pee again. I couldn't. Sitting on the toilet made the pressure realllly intense, so I tried to stand up, but Delilah pushed down on my shoulders and told me to sit into it! She's supposed to make me feel better- that hurts!! Lol! She mentioned that I sounded like I could push. I was appalled at the idea. LOL. She told me if I felt like it, I could try to bear down just a little bit with the next contraction and see if it stings/bites like a pinch, or felt "right". "Not necessarily good, but right." I hate pushing, I really do. I was in no rush to start doing it. I kind of half way tried it, and didn't feel any pain, but I was tired, and just really not thinking it was time yet. TJ brought me some water, I was kneeling over the sink now. Delilah stayed with me too, and even though I was convinced she was crazy for thinking I was almost done already, I was so grateful to have her close. This time was different though. Nothing really helped me feel better. There was no magical "ahhhhhh" thing that anyone could do for me. However, I was super glad my butt wasn't killing me like with Hannah!! I'd been dreading that!
We decided to go ahead and go upstairs- Delilah seemed to think I was really close to having a baby. I was pretty sure I wasn't. Lol. I was so so so tired, I just almost couldn't get my brain past that. I just wanted to sleep and do this in a few hours. On the other hand, I was also full of so much joy- this was what I had asked for! Spontaneous labor! Healthy labor! I was about to give birth to my baby at home! Thank you, Father! My heart's desire, being handed right to me. It felt like a dream. Going upstairs turned into a long drawn out ordeal for me emotionally. I was feeling weepy and tired and not really wanting to go upstairs and face these midwives who I didn't know and they didn't know me. I cried that I wished my midwife was there. I cried that I didn't want to push. I cried that I was tired. I cried that it hurt. I cried that I wanted to be done. I stopped at the landing halfway up the stairs, kneeling on the stairs. Delilah sat with me, and I think TJ was sitting behind me.
At 5:54am, I had a big contraction and finally felt a bit of that pushing urge. I let my body push. And then I cried that I hated pushing. Lol. We did some joking about delivering on the stairs or not, and I assured them that I was coming upstairs. The midwives were so SO great. Aside from checking on baby and me once or twice, they kept their distance and waited for me to come to them. They met us halfway up the stairs, and helped me up the rest of the way. We all went into the bathroom so I could try to pee again, where I emphatically insisted to anyone listening that I hated pushing, that I didn't want to push, that pushing sucked…all the while my body was already kind of pushing.  Hannah was apparently with us at that point, although I don't remember her at all. But the pictures Delilah took show she was in there. So. Ha.
The midwife asked me if she could check me before I got really serious about pushing, and I agreed, but I could already feel his head coming down and knew this baby was coming. I got onto the bed on my hands and knees and she checked and confirmed that I was complete and baby was +1. I remember yelling at her "YOU.ARE.POKING.ME." Haha. That was at 6:03am.
Someone brought the ball to the bed so that I could lean on that instead of my wrists and that felt really good because I could rest in between contractions. I realized now that I was really very afraid of tearing again, and tried to calm myself so that I could push slowly and controlled. This is really hard!! I remember them telling me that my next push was really moving my baby. Everyone was so encouraging, yet so calm and quiet. It was never hurried or rushed or dramatic. It was very calm and simple. I could tell I was getting close to that "ring of fire" this-is-it moment, and was not really all that excited yet. I just kept saying "I haaaaaaaateeee pusshhhhhhinnnnnggggggg".
At 6:08am Hannah asked TJ to take her back downstairs to watch Cinderella. He got about to the door and I hollered, "I'm almost done, don't go anywhere or you'll miss it!"
At 6:11am they asked if I wanted them to try and break my water. I asked if that would make the pressure worse or better and they laughed "It's not going to make it worse, that's for sure." She tried but couldn't get it. I pushed again and felt his head coming. I worked so so hard to do it slowly. Gosh it was such hard work. But they were telling me that I was doing so good, stretching great, and that helped so much, to know that my effort was working!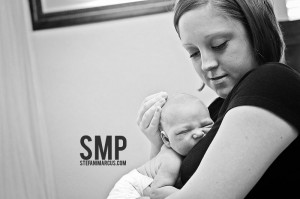 I felt his head come out, and since I was in hands and knees, I couldn't see yet. Delilah announced that his head was born in the caul (still inside his amniotic sac! COOL!) and they told me he had his little hand up by his jaw. I gave one last push and the rest of him came out at 6:15am! I immediately started bawling. I just kept saying "ohmygoodnessohmygoodnessohmygoodness!!" I was sooo overwhelmed with joy and relief and thankfulness! They passed him through my legs to me.  I was still crying and just in so much shock! I feel like this moment is imprinted on all of my sense. I remember being surprised at how warm he felt. How slippery he was. What he smelled like. His first cries, already demanding to nurse. Every detail, bonded us instantly. Heavenly. Perfectly designed by a Creator that knows what He's doing.
After a minute or two TJ went and woke Jaron up. It was so so special to have the big kids there, to have all of us together seeing baby Levi for the first time. The kids were so in awe, all smiles. Jaron's first reaction was to cover his ears and frown- baby is too loud! Haha. My boy was born hungry! Once we got him latched the kids got closer and talked about how tiny all his parts were. It was soooo special. Maybe my favorite part of having a homebirth! I love that we will forever have memories of Jaron coming in his doctor dress up outfit and played midwife, chatting up the midwives. I love that Hannah was sitting in the floor doing puzzles in her Cinderella costume. I love that when they first asked us "Do you have a name?" Jaron cried out "Rocketship Shrimp!" I love that we all met our new family member together. I love that my kids got to see what normal healthy birth looks like. I love that everyone there acted like it was the greatest thing that they were there, welcoming them, chatting with them, being sweet with them. I loved watching Delilah love on and dress my big kids for the day. She even sat in my bedroom floor and folded laundry! She cooked breakfast for me, and included Thin Mints! Lol
I loved having all 5 of us, lying on my bed, talking and laughing and loving on our new baby. I love what Levi's first minutes were like- surrounded by his family who loves him, and I'm forever grateful for Delilah and the midwives who did an absolutely perfect job of protecting, respecting, and facilitating this time.
By 9am I was snuggled up with my baby in my bed. As tired as I was, I had such a hard time falling asleep because I just kept staring at his little sweet face, and tearing up, just thanking the Lord for what had just been given to me.
I've just been so overwhelmed with gratitude for the gift that this birth was. I am so aware that the Lord works through all things to bring me closer to Him, and to know that He had the power to give me lots of different things, but chose to give me this… I am just so touched by the tenderness and sweetness of knowing that He heard the desires of my heart, down to every detail, and gave it to me. He is so many things, and generous loving Father is certainly one of them. He didn't have to give this to me. He didn't have to give me what I wanted. He just. Did… How sweet He is. My heart is overflowing. I pray that as I share this story, as I so want to do because it's so beautiful and precious to me, that my heart would remain in a place of worship- that I would never tell it in a way that brings glory to me. *I* did not do anything amazing. *I* did not make this birth happen. I didn't say the right prayers, or take the right vitamins, or eat the right food, or anything. It was so incredibly out of my control. I made choices and planned for what I could, and had to give the rest to the Lord, knowing that He would do good with whatever situation He allowed. Oh how I praise Him for His goodness and kindness. He gave me this birth. And I am so thankful.
Levi's birth summary:
Time of Birth- 6:15am
9 pounds 5 ounces
21.75 inches