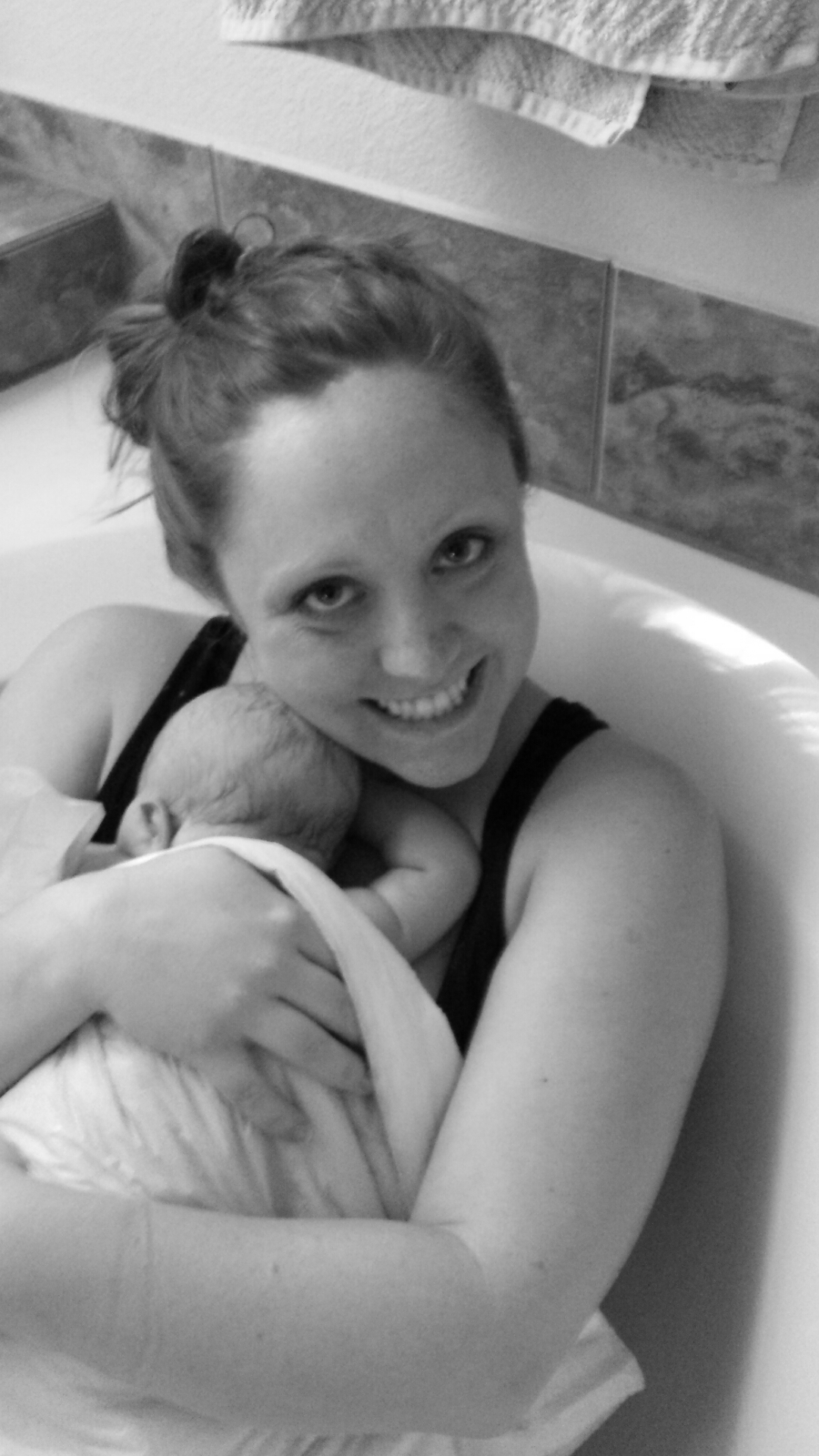 The Birth of Nora Jane – February 8th, 2015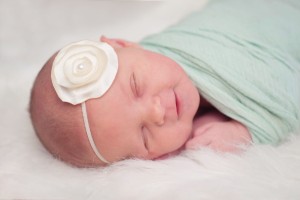 Oh my Nora girl.  My 4th baby, second daughter.  My 3rd VBAC (vaginal birth after cesarean) and my 2nd homebirth. I knew I wanted a 4th baby, but I thought it wasn't time yet. I wasn't ready, and I had other things planned first. Of course, God loves to throw wrenches in all my plans, so the weekend after Jaron finished Kindergarten, we learned I was pregnant again. I spent the first half of her pregnancy completely and utterly miserable. So super nauseous I couldn't eat, headaches, intense fatigue, a lot of anxiety and depression. I was a mess. My big kids speak fondly of "the summer you were so sick we got to watch too much tv and eat whatever we wanted."……. But by fall I could kind of function. We learned she was a girl, which would give us two of each: boy, girl, boy, girl. A perfect set, lots of people tell me. J We did Disney World in October and I didn't even die. It was a healthy pregnancy, in that she and I were physically fine, but anxiety would not leave me alone. I was heavily burdened with the feeling that I could not be the mom God was asking me to be. I cried out to him, "why have you given me so much on my plate, when we both know I'm going to fail!?" It was a hard pregnancy, even though we were both "healthy".  It always is, in one way or another, for me. God has used this season of life 4 times to work on me. Teach me hard things, break me loose from lies or traps that keep me from Him, speak new truth to me, and show me His love for me in a new way. I knew this would be true again, and longed to see the harvest, but I struggled a lot.
When my due date came and went, I was peaceful and calm; awaiting the day she would come with grace and dignity. ….. Or at least that's what I wish I could say. Listen. I was a hot mess. I think I cried every single day- bawled my ever lovin' eyes out. I felt like I was suffocating, both in the physical aspect of just carrying around a 10 month pregnancy and caring for 3 other children under 6, but also emotionally I was depleted, I longed for rest, peace, and comfort.  In my previous pregnancies I had always had a lot of Braxton Hicks in the months leading up to labor, this time I had almost none. I became quite certain that I truly would be the first woman to stay pregnant forever. I felt anxiety about the unknown; I felt guilt and shame in my anxiety. I was not afraid of the birth, I knew I could do that, but I was terrified of having 4 children.  Friday night I had a nice little breakdown to my sweet doula, Delilah, and felt a little better….. for a minute.
The week I hit 41 weeks, I was seen by my midwife Kathleen twice, and had a sono to check baby, fluid, etc.  Baby and I both looked healthy and normal, so we felt confident in waiting for her to choose her birthday. I also learned my midwife would be out of town the following weekend. I would turn 42 weeks on Sunday. By Friday I had a big ol' ugly cry. I was pretty sure I would end up being induced the next week. Hannah's birth was induced at 42 weeks and 2 days, and while it was fine and I still got my vbac, that wasn't what I wanted. Levi had come weeks before I expected him, quickly and smoothly at home, and that's what I longed for again. I cried and vented to Delilah. I cried to God, "WHY? Why do I have to do this the hard way again??"  And y'all, I could feel Him trying to peel my white knuckled fingers off of the situation. I knew He was saying, BE CALM AND TRUST ME. I knew that my prayer had to be simply, "Help me to trust that you love me in every circumstance. Help me to know, even if the answer is no and nothing goes my way, that you are for me, not against me." So that's what I prayed, with tears on my face, in doubt, and fear, and even truthfully some anger, that's what I chose to say. Saturday all day I had the lyrics to the song "You Make Me Brave" on repeat in my head. "As your love, wave after wave, crashes over me, crashes over me."  I heard it on the radio more than once. I had it stuck in my head, and all day I kind of meditated on this picture of God's love washing over me, covering me, enveloping me, and I had peace. I had some stomach issues and a little mucous plug, but nothing very notable. I rested, I went to the grocery store alone, and we cooked a little. Actually! TJ put some meat in the oven in a plastic tray and made my whole house smell like burnt plastic! It was a horrible smell!! Haha. I went to bed around midnight.
2am on Sunday the 8th, I got up to pee, and when I laid down I had a contraction. It wasn't super strong or long or really anything special, but I just knew it was different. I closed my eyes and tried to sleep. I noticed that the contractions kept coming. About an hour later I got out my phone with the contraction timer. In between contractions I made myself keep my eyes closed and try to sleep. When a contraction would hit I'd tap my phone, close my eyes again, and just focus on keeping everything limp and relaxed. I was in "ignore it until you can't" stage. At 4am I sent an email to Delilah that I was pretty sure I was warming up, they were consistently 10 minutes apart, and to let me know when she woke up. By 6am I emailed her again that now they were 6 minutes apart and I couldn't stay in bed anymore, it hurt too much to lay down, and I was getting in the shower. I think she called TJ while I was in the shower. From looking at me, he guessed they were about 7min apart. I knew I was in very early labor, and was feeling very much like I didn't want to burden anyone. In the shower they became more frequent. Little ones in between big ones, coming sometimes only 3 minutes apart, sometimes more like 8. Delilah wanted to know if she should come.  When the contractions hit I would feel like I needed her, but in between I felt fine, and felt silly calling anyone yet. I was feeling like I didn't want to waste anyone's time or burden them if it was going to take a long time. She knows me well, and said she was on her way. I'm so glad! I remember telling her "but the little ones don't count" haha, but oh yes, yes they do!
I wandered the house a little while as we waited for her to come. The kids were all up by now, running around, and not at all interested in mom. I really don't even remember what they were doing! I think Delilah arrived around 8am. We walked around, she sat on my bed and folded laundry with me, and we chatted. I didn't need physical support yet, but I felt really good and relaxed having her, TJ, and the kids all just milling around like it was any other day. I knew I had hard work to look forward to, but now I was just going to enjoy this special day with my people.
Around 11:20 the kids had gotten pretty rowdy, and I was getting tired, so we sent them outside. I texted my other midwife, Lisa, to tell her I was warming up. Her response was something like, "Well what does that mean, I'm at the birth center with another mom in labor right now!" I told her I was in early labor but that she had plenty of time. Delilah started texting other midwives to see who was available. The contractions were pretty strong now, but I was still chatty and social in between. At 11:50 Lisa texted Delilah that she's going to come over and see how I'm doing. I was excited! I'd hoped for my whole pregnancy that she'd be able to be at my birth. Around 12:30 both Lisa and Kristine arrived. They checked my blood pressure and listened to baby Nora for a bit, and then we all just hung out. At 1pm TJ made me food, sweet man. He was juggling me, the kids, and even did some yard work! (It's what he does in early labor, he trimmed bushes when I was in labor with Levi too! LOL)
By 1:30 those contractions were strong, and I wasn't having fun anymore. They convinced me to lie down on my side. I really didn't want to, but I was also very tired, and could sense that I needed to rest for a minute. They propped me up on pillows, and sat right with me, hands on me, taking very good and loving care of me. I told myself that I only had to do 5 contractions lying down. Just do 5. You can do it.
Ohhhh man they were so hard. With each one I felt my entire body and mind shift inward. I was starting to block everything else out, focusing on every breath, putting all of my energy into relaxing every muscle, not fighting my body, but letting it do the job I knew it was so well designed to do. The 5th contraction lying down pushed me to the edge, and at 2:11pm, I cried. I could feel that the very hard part was here, and I wasn't sure I was ready to face it. I got up and went to the bathroom. I wanted to pee, but every time I started to squat, another contraction came hard, and strong. I braced myself on the walls, breathing, and told everything to relax. I would try to sit down again, and it'd start again. I felt like I was in there for a very long time, but they said it was only a few minutes! It never occurred to me to call anyone to come be with me in there, it was taking every single ounce of my energy to stay focused and on top of it. I guess I finally whimpered or made some kind of noise, because I heard suddenly all 3 of my birth team rush into the bathroom. I told them I really needed to pee and couldn't. I felt so much pressure now. I remember asking, "Surely I'm about half way done, don't you think?" but I have no idea why I asked that. I knew the answer. My body was starting to push at the peaks of contractions. I wasn't half way done, I was almost DONE done!  I remember Delilah holding me up in the middle of the bathroom as I leaned into her, and after a contraction looking me right in the eye and saying, "I think you're almost done."  I just said very calmly and matter of fact, "I know."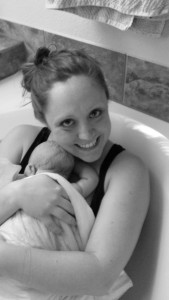 I decided that I wanted to try sitting in the tub. The thought in my head was that I was going to get in the tub, relax and feel better for a minute, and then get out and push the baby out on the bed. Silly me, at that point the only thing that feels better is just getting that baby out! During this time the kids were in and out, checking in to see what the hustle and bustle was about. The midwives were SO good about explaining and assuring them, it was so sweet. I got in the tub at 2:16. I didn't at all feel that sudden rush of relief that people talk about feeling when they labor in the water. I was kneeling in the tub. I had so much pressure that I never did sit back, it felt impossible to let go of the side of that tub and sit down when I had so much pressure. The contractions were strong, and pushy. With everything that I had, I focused on relaxing every muscle of my body. I didn't want to add anything, tension or extra pushing. I didn't want to just push as hard as I could and blow that baby out of there, been there done that. I wanted to protect myself better. I blew air out. I think I was quiet. My mind was quiet now. I have tunnel vision memory about this part. I would ask for a drink of water, it appeared in an instant. I asked for a hair tie, they found one. I was so surrounded by love, and felt completely safe. I knew that they were caring for me, my husband, and my kids. I was free to just focus on the work at hand.
With each contraction I felt my baby being pushed further down. When I felt her head right at the opening, I focused on holding her there until the next contraction. I wanted her head to slowly stretch me.  I was focusing everything I had on holding her there, when suddenly I felt the strangest sensation. I actually felt her slip back up, and rotate her shoulders! I yelled, "Where is she going?!"  I told them what had happened and then another contraction hit. I heard Lisa say, "Oh! There's her head!" and I think I said, "Yea I know."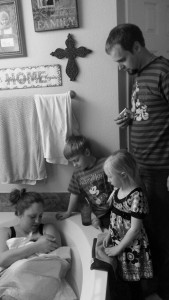 And then at 2:50 the rest of her body slid out into mine and Lisa's hands, with her amniotic sac still covering her head. Lisa unwrapped the cord that was around her neck and helped me pull her to my chest. She felt so soft and completely beautiful. She felt amazing. I remember just stroking her little head in awe of how soft and warm she felt. I leaned back in the tub and soaked her in; her little voice, her soft head, her smell. She was so perfect. I rejoiced, "I'm not pregnant anymore!" TJ and the two big kids were right there at my side, and we all just were in awe of this new tiny girl. Levi was uninterested and watching tv in the other room. Ha!
I got out of the tub pretty quickly, but not before the baby pooped on my. The kids all thought that was HILARIOUS and still talk about it from time to time, "remember when Nora pooped on you on her birthday!?" Ha.  It felt so good to lay my tired body down on my bed. My sweet husband brought me some juice, and we just sat and looked at our new baby. She was nursing now. When the cord stopped pulsing, TJ cut it. The kids were so fascinated with the baby, the cord, Jaron even with the placenta. Kristine took the time to show and explain all the different parts to him. He sometimes talks about that "cool gross science lesson" and I'm waiting for him to bring it up at a really awkward public function. Ha. At 4pm I showered, I felt so light and small!! I was so happy.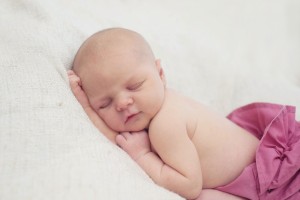 My baby was 8 pounds, 10 ounces- my smallest vaginally birthed baby. She was nearly 22 inches long. Nora Jane wanted everyone in the room to know that her lungs were just fine. She cried. A lot. Unless she was nursing, she was crying. She didn't want to be measured, she didn't want to get a diaper on, she didn't want the midwives to examine her, she wanted to be left alone with her mama! In fact, for about 2 months after her birth we're pretty sure she just stayed mad about being born!! It was an ongoing joke that Nora's mood was "Being born sucks. Earth sucks." Haha, but you wouldn't know it now. She's such a happy easy going girl. I'm so glad that God knows better than I do, and that He gave us our Nora girl. His timing really is perfect.
I had hoped for an easy happy post partum time, but that wasn't the case. Severe anxiety and depression got the best of me for several months. It was very hard. But that time was good for me. It pushed me to cry and say "don't leave me, I need help." It pushed me to let things go, and leaving things undone. It pushed me to say "I can't take care of that this week, thank you for offering to handle it for me." It meant letting people see me, the very vulnerable parts of me, because I had no strength to hide them. It meant looking into another mom's face, and having nothing left but to admit, "It's really hard, and I'm a mess right now." Ultimately, it made me learn that every time the enemy whispers in my ear, "You can't do this. You're not good enough."  Every.single.time.  My response should always be, "Yes, I can. I can do all things through He who gives me strength," and choosing to trust that He loves me, and is for me.