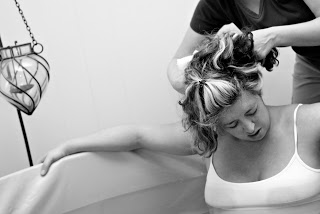 On the fifteenth of October, two of my long time dreams became a reality; experiencing a water birth and having a daughter..
The day before our estimated due date was a full moon, which I had decided would send me into labor. I follow in my mom's footsteps in that I give birth on or within a day of our EDD. After researching a little on the web, I found out that the full moon would officially take place at 4:00pm. Just two hours later while we were sitting down to dinner around 6pm, my prelabor contractions began. We finished our meal wondering when the actual contractions would get rolling since second labors always seem to go faster. The evening routine continued normally with giving Cade a bath, eating ice cream, and then going to bed.
By eleven o'clock, the light contractions were in a definite pattern but we decided that we should try to sleep. I was worried that I would not be able to sleep through them so Chris gave me a good tip. He said to close my eyes and go to sleep immediately after the next contraction ended. It worked! We didn't wake until 5am the next morning, which made for a very good night's rest.
Cade woke up early too, as always. Chris began cooking all of us a good breakfast. I decided that I would go ahead and start getting ready, which included putting on my contacts, dressing, maybe even a little makeup. The problem I found was that I was having a bit of trouble completing these simple tasks. Instead, I would have to sit down on my ball during each contraction. They were still not painful but efficient and I wanted each and every single one to work effectively. This meant that through each contraction I would focus my mind on relaxing my entire body, letting it dilate my cervix, and imagining the baby coming down.Meanwhile, Cade burns his little finger on the stovetop and sobs uncontrollably. My mind snaps to take care of my baby boy and things become chaotic. I decide that I need full concentration to labor so Chris calls Stephanie to come pick up Cade.
What is bothering me is that I'm still unable to make much progress in dressing myself. I know this labor could continue for hours and hours, or it could easily go from zero to ten in a matter of minutes. So I opt to lean on my doula, Delilah, and I give her a buzz. We talk out the possible scenarios for quite some time and she listens to me as I breathe through a contraction. Not much of a decision is made since again we can't really predict how this labor will transpire. I do not want to get to the center so early that my labor stalls so I decide to stay home a little longer and relax.
Stephanie has arrived sometime during my conversation with Delilah. I can hear all three of them chatting and walking through the house. When finished, I try to talk to her but I struggle. Cade is excited to play with Christopher which makes for a happy goodbye. I walk out on the porch with them as they are leaving but the contractions are intensifying so I walk back inside and moan on the stairs.
I give dressing another try but give up. "I think we had better go to the birth center," I tell Chris. He had already called AllenBirthing Center when he had called Stephanie so they knew to expect us. I dial Delilah and my first words to her are, "I can't relax. I'm not able to get ready" to which she replied with "Then I'll see you at the birth center as soon as I can get there." We leave.
Chris drives the truck, and he had already packed everything earlier when I had tried to dress. Unfortunately, the backseat is full so I'm stuck in the front. It's extremely difficult to sit normally. I'm sort of leaning forward bracing myself on the dashboard. At every contraction, I take off my seat belt and get on my knees leaning in toward the console moaning and breathing. At stop lights, I wonder what the other people in the cars next to us are thinking. I'm getting some decent breaks between contractions so I try to text some of our friends to let them know we are in labor but that I cannot talk. I'm terrible at texting since I almost never do it. It takes me a few tries to get it right. We make decent time seeing that its rush hour and our only hold up is the parking lot on I-75. Chris knows how to maneuver some of the off roads and we arrive at the birthing center with no problems. By now, I've decided that the number one reason to homebirth is so that you do not have to ride in a car while in labor!
Becky greets us at the back door and we walk slowly into the office. She leads me into the office and proceeds to check how far I've progressed. The look on Chris' face is one of anxiety and curiosity. "You're about a 5," she tells us. Chris' face brightens with a big teethy smile and a big ol' holler. I'm just excited that I get to experience a typical progression of labor. My waters are still intact which is also good news for me personally being GBS+.The nurse, Denise prepares the needle for the antibiotic injection. As I watch, my first thoughts rush out of my mouth. "Is this going to hurt?" She gives me a look with no answer and I understand. I'm about to give birth naturally, why would I ask if something hurt?
Denise, Chris, and I walk upstairs to a room. When the contractions start, I find the birthing ball and immediately my pain is reduced.
This is where I stay for the majority of my labor. Chris plays around with the computer and figures out that we have access to a wireless network. He proceeds to blog our adventure.
Sometime during this time Delilah and our birth photographer Chantel arrive. Delilah finds out our info and begins her work. I get lots of back massages, sips of juice or water, and back acupressure. We find a groove and stay with it. Chris is sitting in front of me and Delilah is behind me pushing on my lower back.A little later, my mom arrives which surprises us since we knew she would be in lots of traffic. I had really been worried that she would miss the birth. She jumps right into help as well. She and Chris take turns supporting me on the ball as Delilah pushes on my back.
In between contractions we have such a fun time laughing and joking. We share funny stories and sometimes I'm frustrated when my body cuts the conversation short by an upcoming contraction.
Finally, I begin to feel nauseous and tell everyone I need to throw up. We start looking around for something but there is only this really nice trash can. I proceed to puke into it and it feels great.All of us know this is a good sign that its close to time for the baby to be born. My body is cleansing and preparing for the birth. I think Denise checks me at this point and I'm an 8. We talk about getting into the water but I'm reluctant just because the ball is working so well for me. When I had gone to the bathroom earlier, I had swayed, leaned, and dangled from my mom but that didn't ease the strength of the contraction as much as the wonderful ball did. I remember telling my mom, "Get Delilah in here!"
A little while later, Becky suggests that maybe I should think about getting into the water if that's still the place I want to birth. Water birthing has been a life long dream of mine and so there was no way I was going to pass it up. The ladies help me to walk and step into the tub. It feels so warm and relaxing.  I let everyone know how wonderful it feels. My enjoyment is cut short by another contraction. A couple of more and I realize that my body wants to push. Its time to birth this baby!! I get into a squat position with the nurse and my doula holding me and I hold them as resistance.
I feel some pressure and then a light pop. Relief. I can feel water stream against my leg. Becky says, "Your water broke. Can you feel it?" I look up at her, so amazed, with a yes . Becky checks me and finds that I have an anterior lip. I was not happy when I hear this news. I just think to myself, "Please God, please take this away." Becky instructs me to not push on the next contraction. Do you know how difficult this is? I know to candle blow but as the contraction rounds the corner, I'm unable to hold it. The strength of it overwhelmingly overcomes me and I push. The great news is that Becky says that's all it took, I'm past the lip and complete!!
That's when the work begins. I push along with the contractions and its harder than I remember. Another contraction and pushing. Then I feel the burn. I welcome it with open arms like an old familiar friend. I bear down and push through. I know my baby is close! The head pops out. Oh yes, we're almost there I think to myself.
The next contraction I push with all the energy and strength but nothing happens. Nothing. The contraction ends and I feel the head start swishing and wiggling back up into my body. Speaking of "fishtailing", that's exactly how it felt. I will never forget that sensation. It only frightens me because I don't want to have to push the head out again. I'm also wondering why in the world am I not able to push out the body. In my previous birth, once the head was out the rest was easy as pie.
Another contraction comes and goes with no progress. I cry to Becky that I can't hold my baby's head sticking out of me but she reassures me that my body will do the work for me. I'm uncomfortable and I want to move from the squat. I begin to tell them, "I can't…" Both Becky and Delilah cut me off, "Oh, yes, you can!" they tell me. They encourage me and tell me how well I'm doing. Inside my head, I'm smiling, hugging, and just loving them. I didn't mean to say that I couldn't do it but I don't correct them. I meant to tell them I cannot get comfortable in this position and I want to move. Instead, I choose to bask in the glow of their words. It makes me deliriously happy. I feel like sunshine.
During this time, I "call upon Jesus" as I like to say. I tell Him "Jesus, I can't do this alone. I've already tried. They keep telling me to push harder but I already pushed the with everything within me and this baby didn't budge. I know what it's like, to be on their end, telling the mom to push harder. They don't understand that I've already done so. You must help me push this baby out."
The next thing I know Becky suggests that I get on my hands and knees. I'm thrilled! I feel like I dive into the water to get on my hands because I'm so excited to change my position. A contraction comes and I push. I continue pushing and raging long after it ends. I can feel that baby coming and I'm not stopping until it's out of me!
The baby is born! I'm panting. I'm exhausted. I'm relieved. Less than 15 minutes of pushing this time felt like an eternity. They try to hand me my baby but I'm caught with the cord wrapped around my legs. Finally they help me to flip over and the baby is placed in my arms. The baby is so heavy and I practically shout this to everyone. I am astonished at how heavy it feels.
I'm wondering what the gender of the baby is. I begin to peek but I'm in no hurry. Looking past the cord, I think I see penis. I ask what I had but everyone says you need to look. I open the legs to reveal the sex but I still don't see. Everyone shouts, "Oh it's a girl.". I just sit there in disbelief. It seems as if everything slows down in slow motion to capture the moment.
I hear my mom cry, "It's a girl" and I turn my head to the right to see her crying.
I hear Chris stumble over his words, "It's a girl" and I turn my head left to see him wiping tears from his cheek as he holds the video camera. All I think to is to ask myself, "Should I be crying?".
From that point, we just hang out in the water. Becky tells me to let Kenslea float while I hold onto her. We have that moment captured! Even though we had chosen to cord blood bank, I really wanted to delay cord cutting. (You cannot do both.) I was really enjoying the tub with Kenslea so I chose to remain quiet in hopes that the idea could be forgotten. Smarty pants Chris perked up and said something about it. This prompted the midwife to quickly get us out of the water in order to begin the process before it was to late. Chris cut the cord and off we went.
Once on the bed, I could feel the contractions for the placenta. I was uncomfortable and just wanted to push out that sucker right then and there. I'm not really sure the reason for the hold up but I'm assuming it was because Becky was drawing the cord blood. Finally. I was able to rid my body of my placenta. Becky checked it and everyone oooohhhhed and ahhhhed at just how beautiful it was. We've got the picture to prove it; however, I wouldn't know what qualifies as a beautiful placenta.
During this time, Kenslea is weighed and we find out she is 9 pounds and 8.5 ounces. The room whoops and hollers in response. No wonder she felt like a sack of potatoes had been placed on my chest! Following, I'm told that I did not tear. I'm thrilled. Its not because I'm super mom, by any means. I birthed naturally in water in two wonderful positions just made for delivering a baby, a squat and hands & knees. I knew this was a benefit, a classic textbook, but I'm just tickled to have accomplished it myself. On top of this news, we find out from her measurements that her chest is slightly larger than her head. This makes perfect sense as to why I was struggling (in my opinion) to push out her body! That little stinker.
Delilah is taking care of me as well, making sure I'm still drinking juice and water. Becky tells us that there is a third mom here in labor and asks us how we would feel about moving. Our birth is finished and we don't mind moving. We make ABC history! It is the first time they have had three babies born on the same day.(There's only 2 rooms.) We go next door in the office where there is a pull out couch bed. They make it very comfortable and I barely notice anything anyway because I'm so exhausted.  I rest, eat, talk, laugh, nurse, and cuddle Kenslea. By the afternoon, we are ready to go home.The nurse performs Kenslea's exam and she gets the Vitamin K shot. (She had some bruising on her face.) All is well. Hugs are given all around. Our car is loaded and we drive home to introduce Kenlsea to her big brother Cade.
Kenslea Caroline
October 15, 2008 10:55am
9 pounds 8.5 ounces 20.5 inches