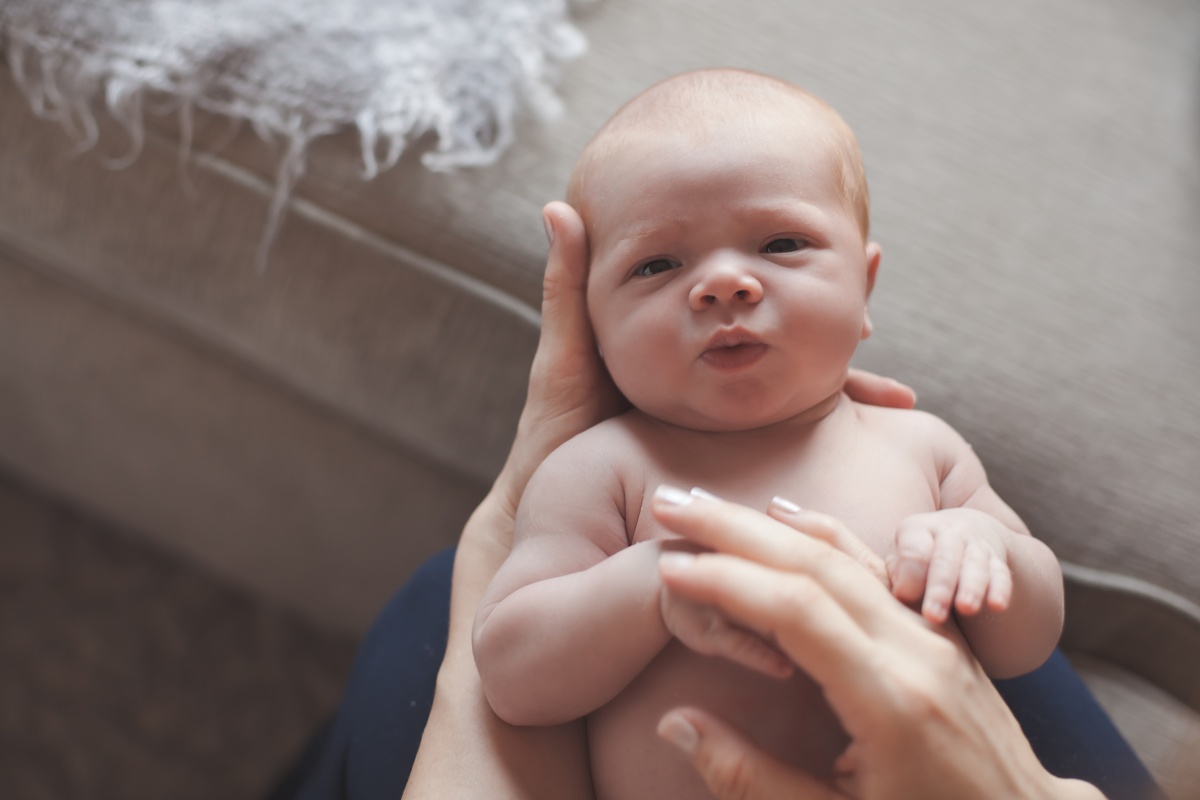 My first birth to my daughter was about 3.5 years ago and I wanted a natural childbirth. My husband and I took Bradley childbirth classes and patiently awaited the arrival of our first child. When I went into labor, it seemed like nothing was going as I had planned. I ended up having back labor which made it really difficult for me to relax in between contractions because I felt like I could never calm down. We went to the hospital too early and interventions started happening. Looking back, I think the interventions started so quickly because we were nervous and I needed reassurance that the pain I was feeling was normal, but I wasn't getting that from the nurses or doctors. I was scared and worried I was harming my daughter by not being able to calm down. So after 16 hours of labor I opted for an epidural. Finally at 24 hours of labor it was time to push. I pushed for an hour and the doctor mentioned a c-section because she was worried that my daughter's heart rate was dropping when I would push and she wasn't descending in the birth canal. My daughter's birth ended in an emergency c-section and she was healthy and I was healthy but I felt like something was taken from me. It was a bizarre thing to have a child inside of you for ten months and then someone hold this baby next to your face. I had hoped for so many more things to occur during my birth and was disappointed. I felt disconnected but was happy that we were both okay. Until I held my daughter in my arms and she crawled up to nurse, I didn't feel like she was mine.
My doctor told me my daughter cried before she even had her out of my uterus and that she had the cord double wrapped around her neck. She told me she would have died without a c-section.
Nearly 3 years later, I got pregnant with my son and started doing research because I knew I wanted a VBAC. We ended up moving to Dallas when I was about 20 weeks pregnant, and I didn't think it would be so difficult to find a doctor that I agreed with. I kept seeing doctors and feeling deflate. I remember telling my husband, after crying one night because I was so frustrated about my OBGYN appointment that day, that I was going to deliver my own baby because nobody was going to force me to do things I didn't agree with.
I mentioned I did a lot of research, and I mean I did a LOT of research, from reading forums, to VBAC websites, to many books and watching movies. I had consumed a wealth of knowledge. Through all my research I was convinced that my daughter's c-section was unnecessary and I started to feel uncomfortable with the idea of birthing in a hospital this time around.
Our plan for our son was for this to be our last child and this made me want my birth to go as planned so much more. I needed a healing birth, something to make me feel like a woman, whole, and to have a quicker recovery with a 3.5 year old to take care of as well as a newborn.
Through my research I discovered a Facebook VBAC/c-section support group. This group ended up being such a blessing. I searched for doctors, midwives, and doulas on this group and ended up finding Delilah through this group. At first, she was really helpful giving me advice of doctors to try and visit that were VBAC friendly. All of this help was before I actually hired her because my husband and I still weren't sure we wanted a doula. After visiting doctors and the hospitals they delivered in, I didn't believe that it was possible for me to have the successful VBAC I wanted inside a hospital.
For my birthday, my husband gifted me Delilah to use as a doula for the birth of our son. He said he saw the look in my eyes when my daughter was born, and even though my daughter and I have the most intense bond now, he couldn't bear to see that look in my eyes again and he thought we should do everything within our control to help me get the birth I had hoped for. He was really supportive throughout my pregnancy and this journey we had embarked on. Even with how supportive my husband was, he didn't really understand my feelings until I had him watch the Business of Being Born. After we watched that video together we decided a birth center would be best for our family.
Finally I found a birth center at 32 weeks pregnant that I would birth at, Bella Births. It was about 35 minutes from our home, but I felt safe and that the midwives had the same philosophy as I did. I really wanted a home birth but decided to deliver at the birth center in case any complications were to arise. I really wanted my daughter present during the birth and an environment that would allow for that and for her to be able to feel comfortable.
I was very anxious towards the end of my pregnancy and excited to let my body do what it was built to do and meet our little boy. Labor started on December 30th at 2:01 in the morning. I woke up with a stomachache which I thought was from the previous night's dinner. I got in a warm bath to help my belly feel better and relax. I didn't realize I was in labor. Toward the end of my bath I started noticing cramping but didn't believe I was actually in labor. At 3 AM I was fairly certain I was having contractions and started timing, they started about 3 minutes apart and I bounced on the exercise ball in my bathroom and walked around for an hour. At 4 am I woke my husband because my contractions were starting to get strong and I was confused why they had been happening so fast. He helped me work through them rubbing my back and helping me change positions. It took a while for me to believe this was it, the time was finally here.
I don't have the best memory of timing, but at around 5 AM my husband called Delilah and emailed her my contractions. She was on her way and I was thankful for the help to arrive. From 5 AM to 6 AM my contractions got increasingly worse. I ended up on the floor on my side because I was in so much pain. I couldn't seem to wrap my head around how quick my contractions were and how strong. Picturing a long labor like my daughter's was making me nervous that I couldn't handle this amount of pain for that many hours. I remember through almost every contraction telling my husband I couldn't do this, that I didn't want to do this. He just kept reassuring me about the pain, losing feeling in his hand in the process. I had one contraction on the floor that was so intense and my son felt like he moved and descended into the birth canal during that contraction. Finally we decided to get me off the floor and try changing positions. My husband helped me on to all fours and when I got there I felt some wetness and wasn't sure what it was. Then all of a sudden my body started pushing. I was confused because I thought there was still quite a bit of time left after speaking with our midwife. I finally got to the toilet after a couple contractions and saw my bloody-show. As I sat on the toilet my water broke, and it sounded like a pop. I continued to push because I couldn't help it. I told my husband there was no way I was getting in our car, that this was too intense, and I couldn't do it. He tried to calm me and let me know that Delilah had arrived and was just parking. I was trying so hard to calm through the pain and the moment I saw Delilah walk into my bathroom I instantly felt relaxed. I believe she arrived around 5:45. She encouraged me to get off the toilet and helped me to my bedroom, I didn't make it much farther than the floor right by the bathroom because the contractions were so intense. Delilah told my husband to call the midwife back and tell her that I was involuntarily pushing and my perineum was bulging. She said we were going to meet our baby soon and the midwife needed to come to us. I was so relieved I wasn't getting in a car!
My daughter had been sleeping through all of this and a few minutes before our baby arrived she woke up. She asked her daddy why mommy was "whooing" and he said her brother was coming. She was so excited and wanted her big-sister bag out of the car. This is the bag I prepared for the birth center for her to play with while I was in labor there. My husband made sure it was okay for them to leave and go get it.
While they were gone I continued to push and Delilah told me she could see my baby's head and to reach down and feel him. She told me with my next push he would be here. During my next contraction she told me to reach down and grab my baby. She helped me and I pulled him onto my chest. At 6:23 AM our son was born. I delivered my own baby! He was crying and laying on my chest with a towel over us when my daughter and husband arrived back in our apartment. I did it! I had a VBAC!
My midwife arrived 20 minutes after the baby was born. We were both healthy and fine. I had to get a few stitches because my son decided to come out with his hand by his head, but other than that, everything was good. My midwife couldn't believe my labor was so fast. She had expected a longer labor due to my first birth. My son was born under about 4 hours. He was 8 lbs and 5 oz.
Looking back on my birth experience with my son, I can't help but feel blessed and extremely happy everything went well. I don't think I could have planned a better birth. I do not think I could have done it without my husband, Delilah and my midwife. Delilah was extremely reassuring, encouraging, and helpful. She is the best birthday present my husband has ever gotten me and I am happy that he did. I would recommend her to anyone who is having a baby. Sitting here at 3:00 A.M. writing my birth story about a month after my son's arrival, I still cannot believe how crazy-fast my labor was, and I am glad that I trusted my body and believed I could do it!