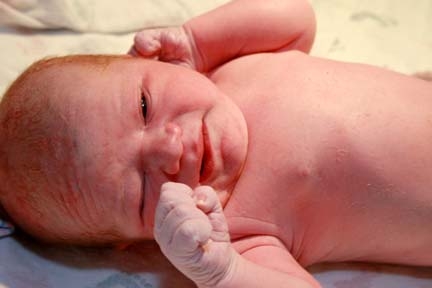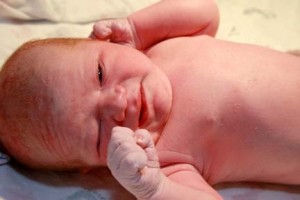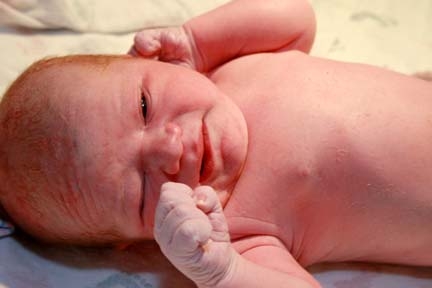 At 43w2d, (ahem, I'm sure I was only 42w2d, according to my charts, but I must have misspoken about the date of my LMP at my first visit) I went to the Dr's office to get everything checked out.  There was no cervical change from the week before (I was so disappointed after all those contractions), I was still dilated 4cm, effaced 75%, baby at 0 station.  I asked him to strip my membranes, and he did, and when I stood up, my water broke.  It was 11:15.  I was surprised at how messy it was (in my prior two labors, my water had broken after I was on Pitocin for a few hours, so I never really saw much….) and the doctor noted the presence of meconium.  He told me I could go home and head to the hospital once contractions had started, but that if they didn't start in 12 hours, I needed to head to the hospital anyways, since I was GBS+, and we would need to start antibiotics and discuss Pit.
On the way home, I called my doula, Delilah, to let her know about my water and that nothing really was happening yet, that I needed a shower, and laughed that I had made an error in judgement when choosing vanity over practicality and not buying depends to have on hand for when my water broke, as the sanitary napkins I had purchased were proving to be completely useless.  As we were discussing that I would call her when I needed her, and keep her updated, a really strong contraction hit and I couldn't talk through it or think straight, so I handed the phone to my husband.  That was at 11:30 or so.  I breathed and relaxed through it and had my first glimpse that the contractions I had been having for weeks were nothing in comparison to the real thing.  My husband finished up the phone call and as the contraction was ending, he talked about how excited he was to meet baby S today.  As we drove back to my mom's house, where my two older boys were, I had an additional 4 contractions, all lasting about a minute, in about 20-25 minutes.  I refused to let my husband officially time them, as he had driven me up the wall in weeks past with his handy little "app" to time contractions.  He would get mad at me that I wouldn't let him know when they were starting, and my thought was that if they were strong enough to time, he should be able to tell when they started.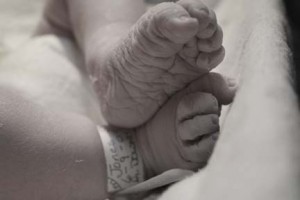 I got to my mom's – decided to shower there, and had several more contractions in the shower.  My husband walked in to find me on all fours in the bathtub with the hot water on my back, moaning through a contraction.  This was the first time he mentioned that perhaps it might be time for us to head back to the hospital. I said no, it wasn't time, and yes the shower was helping, but what was that infernal racket going on in the house, when someone turned on the hot water somewhere else in the house and the water turned straight to cold in the middle of a contraction.  Later, my husband said with the way I yelled, he wouldn't have been surprised to see a baby coming out when he stuck his head in to check on me – he was reminding me to relax and that when I yelled and tensed up, it only made them hurt worse.  It took a minute to explain that it wasn't the contraction that had me yelling but the cold water.  He laughed, which made me a little mad – wasn't I dealing with enough without cold showers?  Then he explained the noise – my parents were having a new roof put on, and the roofers, after canceling daily due to weather or holidays for two weeks, had finally showed up and were pulling off the old roof and putting on a new one.  We discussed at that point going to a hotel close to the hospital to avoid the cold showers and loud noises, but the contractions started getting serious, and I was still insistent that this may or may not be real labor (I was sure if I went in, they would have told me I was maybe a 5 and to suck it up a notch, it was going to get a lot worse before it got better).
I laid on my side on the bed for a while, relaxing through the contractions for the most part, my husband touching me lightly, reminding me where to relax, encouraging me with what a good job I was doing.  At some point, he communicated with Delilah, and emailed her the app (he had been timing the contractions, and I was right – once they were strong enough, he didn't have to ask when one started) which confirmed I was having minute or longer contractions every 4-5 minutes for at least the last 40 minutes.
Now there had been several times over the past few weeks when I had done this for an hour or two and then everything had petered out, so she wasn't convinced (like my husband) that we needed to head to the hospital just yet, which again made me think I was probably a 5, and still several hours away from having a baby.  I had a few more contractions, tried to get on all fours on the birthing ball and abandoned that promptly – it HURT!  I had several more contractions in which I started thinking that I couldn't do this, I wanted an epidural, especially if this was going to go on for several more hours – when I voiced this to my husband, he said it was time to go to the hospital, but that I didn't need an epidural, I was rocking this birth out, didn't I remember from classes that doubt and asking for pain meds was a sign of transition?  I said, yes, but this isn't that, I just want an epidural- I'm sure I'm not in transition.  I then had a really strong contraction (actually a cluster of three of them, right in a row), in which I felt my body pushing…  I didn't say anything, but told my husband maybe it was time to start heading towards the hospital.  At this point, I started shaking, and burping, lol, which was one of the signs of transition in our classes that we had laughed about and it finally started to register that maybe I was really in labor…lol!  It took 3 more contractions to get my pants on, at which point I told my husband that I had been pushing the last contraction (I was too afraid to tell him it had really been for the last 6!) and he yelled for my mom, told my dad which bags to get to the car, called Delilah and tried his best to get me to the car.  I climbed into the front seat on all fours, my butt in the air, with my head towards the back of the car, leaning over upside down to keep my face in the AC that points from the console to the back seat.  My husband, at the time was thinking he was going to have to deliver a baby on the side of the road, b/c it had taken me 25 minutes to push my last baby out, and we were about 25 minutes away from the hospital.  I had several more contractions thinking that the car was a torture chamber, and if I could just get to the hospital, they'd give me an epidural.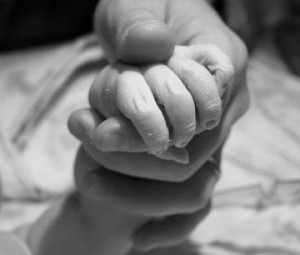 I get to the hospital where Delilah is waiting at the front door with two volunteers and a wheelchair.  The volunteers are arguing over the fact that the wheelchair is not a labor and delivery chair, when I climb into it on my knees backwards, and then they start arguing over the fact that I can't ride in it like that, when Delilah asks them if they want to catch, at which point I start another contraction and the wheelchair just finally starts moving.  I get upstairs to the room, and the nurse asks me to put a gown on, so they can check me.  I am in labor la la land, and I have a few contractions at the side of the bed when someone pulls my pants off, lol, but I have no idea who?  I climb onto the bed on my knees, burying my face in the top part of the bed that is sitting up.  The nurse says something again about the gown, my husband says she's naked from the waist down, isn't that good enough?  And the nurse says, no, she has to have on a gown.  My husband then says, "Okay, Stephanie, we have to get a gown on you, b/c apparently to have a baby at this hospital, you have to wear the proper uniform."  The nurse then puts the gown on the bed and left the room.  Looking back it was humorous, at the time I was thinking I was still a 6 or 7 and would need to agree to the small stuff (like wearing a gown) so they wouldn't get cranky about, say, my delivery position.  Delilah is whispering things in my ear about what a great job I'm doing and that I would be holding my baby in a few minutes (I remember thinking, oh that's so sweet, lying to me to make me think I can do it…)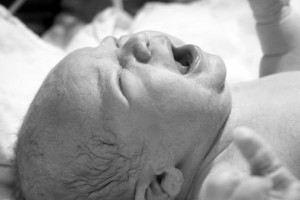 A new nurse comes in and says they need to check me.  We eventually get the gown on and like 10 contractions later (it seemed like) I roll over enough so she can check me.  She does and asks if anyone has talked to Dr. D, and Delilah said she had texted him, and the nurses said they had called him, but no one knew where he was.  I asked how far I was dialated and was shocked to hear almost complete – you just have a lip.  Then I hear one of the nurses ask if I could breathe through the next couple of contractions till the doctor got there, and the new nurse laughed, said she's all natural, that baby's coming when it comes, as she puts on a pair of gloves as if to get ready to catch.  I kept breathing through the contractions and at some point (my timelines still a bit fuzzy) they get an IV of antibiotics into my hand and I answer the question from the check in lady about my social security number.  I notice my mom is in the room, I ask for my sister and was told that she's been locked out of her car and is coming as quickly as she can…  Then I hear Delilah say during a contraction that the baby is visible, does anyone want to call Dr. D again?  and the nurses come over and start pulling the bottom of the bed away.  I am still side lying through all the contractions, with Delilah and my husband holding up my right leg during contractions.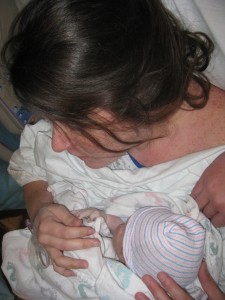 I am pushing as the doctor walks in, he has his gloves on, shoves the gown onto his arms and starts stretching out my perineum.  All along, I am feeling the baby move down into my pelvis, feeling the bones move apart and it was both the coolest and weirdest thing I have ever felt.  Ummm, and it definitely burned, but I was so awed that I could feel all of that (last time I'd had an epidural, and the time before that was a cesarean) that the burning wasn't nearly as important as feeling that (I also felt him slide back a little after each contraction and thought, what a relief – he may just stay right there, I'm not sure I have the nerve to actually push him out) and I reached down and could feel his head.  Then I had another contraction and Dr D urges me to keep pushing past the burning and I do, asking if it's too late for an epidural, everyone laughs and his head is out.  One more contraction and his shoulders and then the rest of him came out, and oh what an amazing feeling of relief!
He was born at 2:32 pm, about 3 hours after contractions had started and about 3.5 hours after my water broke.  Everyone commented on what a big baby he was, and I noticed Dr. D about to cut the cord, and I said I want to delay, and he said "No, the cord broke" – which was odd I had never heard of that happening, and apparently he'd only seen it one other time?  Anyways, they took the baby to suction him, as he had swallowed meconium fluid, and he was having trouble breathing (light fast breathing, shallow breaths, grunting) so they were going to take him into the nursery, but the pediatrician on call let me hold him for just a minute first.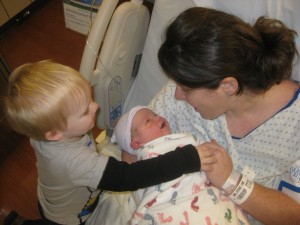 I sent my mom to go with the baby, and then I feel pressure again, so I realize it's time for the placenta.  I feel the Dr tugging lightly and pressing on my belly (ow!) and with the next contraction it comes out.  They switch out the antibiotics for a bag of pitocin in the IV, to help with the bleeding.  Then he does lidocaine shots to stitch me up.  Eventually they come back to tell me that baby is doing well, they are just going to observe him for 48 hours since we didn't get the antibiotics in, that they have his weight, does anyone have a guess?  I guess 10.1, my husband says over 10, and Dr D guesses 10.3.  The nurse says he weighs 10 pounds 4 ounces, and is 21 inches.
I sent my husband to go get him and bring him back – my parents and two older boys come in and my boys give me hugs, and soon after that my husband comes back in rolling the bassinet.  I finally get to hold my sweet baby boy, my boys climb into the bed to look and both are so excited by their little brother.  It was beautiful, way faster than I expected, but so beautiful, and so was my baby boy!