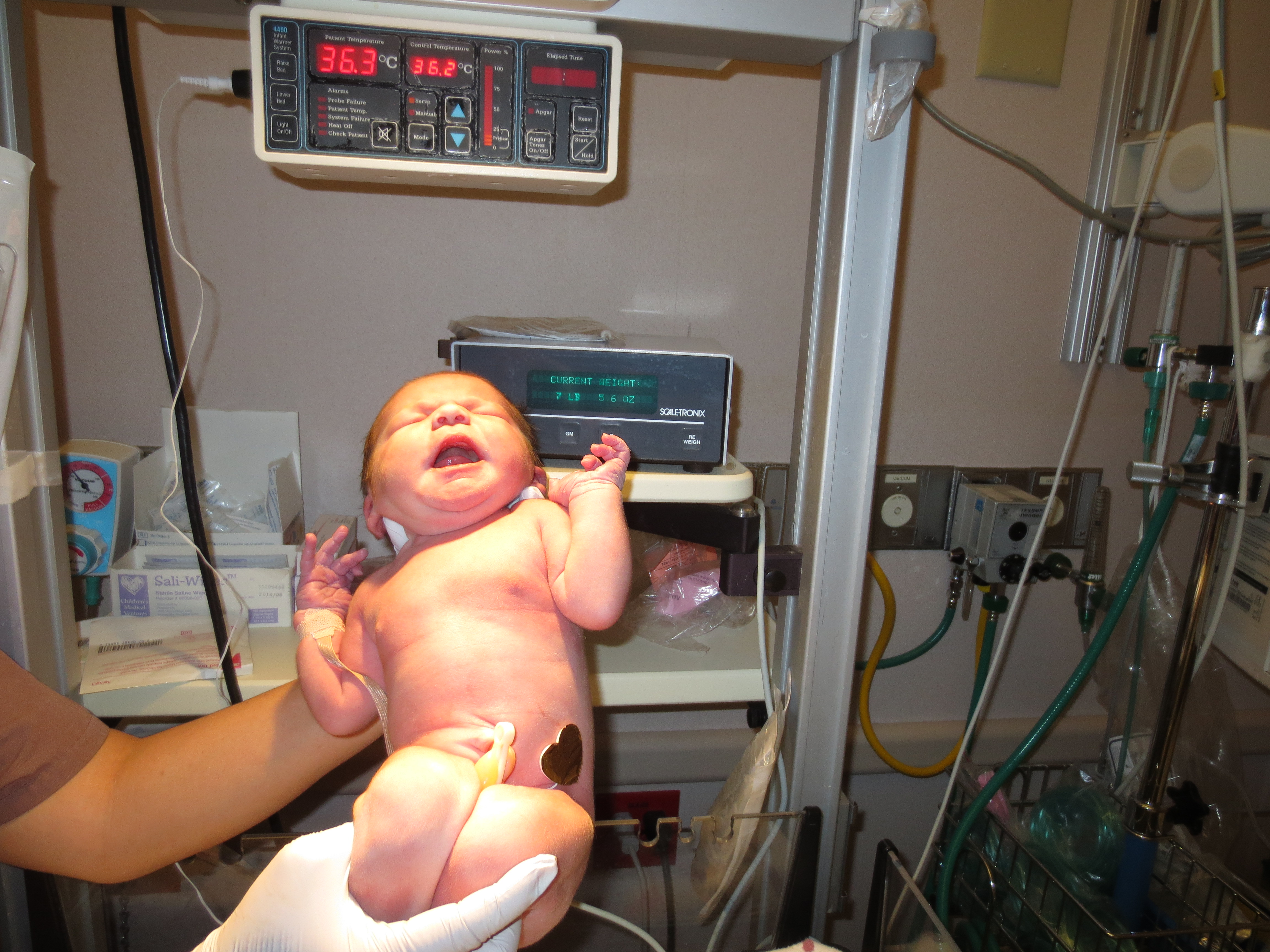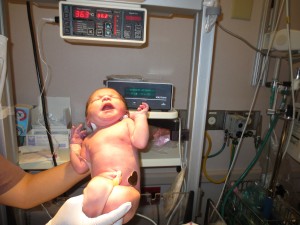 Peyton's Birth Story
When I got pregnant, I knew I wanted a natural unmedicated birth.  And I was sure I knew how to get it.  Delilah and I had been friends for years and I had been around when she decided to become a Doula and throughout her training.  I had listened to what she had learned over the years and had learned through her stories.  I knew who I wanted to be my midwife and where I wanted to deliver.  Unfortunately that midwife had moved out of state, so I went to her partner.  At about 28 weeks into my pregnancy that partner also moved and I was left with her partner.  After a couple of appointments with her, I knew I needed to change care providers.  I knew I needed to "click" with a midwife if I was going to have a successful natural birth and I just wasn't comfortable with her.  So, I chose the person who had been second on my list after years of listening to Delilah's reviews of care providers.
I changed to the Allen Birthing Center and ended up really liking all of the midwives there.  I knew I would be comfortable and could have a great birth there.  My team was assembled – I had a great, supportive husband, a great Doula, and one of the best midwives at one of the best birth centers in DFW.  I had a great pregnancy with no complications.  I was headed for a natural unmedicated birth.
On June 29th, 2009, I was 38 weeks 5 days pregnant.  I got up and started my morning routine of getting ready for work.   After my shower, I went to the restroom and noticed that I was spotting.  I knew I needed to know how "bad" it was so I put on a pad so I could get a measure.  I called Delilah and told her.  Earlier that week she had told me that Friday would be a good day for a baby because her schedule was free and I told her it wouldn't be me.  I didn't feel ready.  I wasn't antsy.  I wasn't nesting.  None of that.  When I told her about the spotting, she reminded me that she was free and today would be a good day for a baby.  I told her I still thought it wasn't my day.
I called the midwife, Betty, and told her I was spotting and how much.   She wanted me to come meet her at the Birthing Center so she could check me out.  I told my husband Doug that he wasn't going to work and that we should take our clothes and food we had packed for the birth center, just in case. I called Delilah at about 6:45 am to give her the update.
On the way to the birth center, I called work and told my investigator that I was on my way to get checked out and I would probably be in later that day.  My investigator said she thought today would be the day.
When we got to the birth center Betty did a check of me much like she had at my weekly appointments.  Except she did a vaginal exam, too.  I was 2 centimeters dilated.  But that didn't really mean anything.  Was I in early labor?  Had I been walking around at 2 centimeters for weeks?  We didn't know because I had not had any vaginal exams.  She listened to the baby's heart rate with a Doppler.  It was low.  Low enough for her to be concerned about it.  She wasn't sure if it was low and staying low, if it was low and would get better later – all of my appointments had been in the afternoon and all of the heart rates had been much higher.  Was this the baby's normal morning rate?  She couldn't tell, obviously.  So, she wanted me to get put on monitors to get a better picture of the baby's heart rate since the Doppler is only a snapshot.  That meant she had to transfer me to a hospital and her back up ObGyn and hospital midwife.  I called Delilah and told her.
Betty gave us specific instructions on where to go and told us to go straight there.  I asked if we could stop so I could get water and she said no.  It was at that point I knew this was very serious.
So we went to the hospital and checked in.  I was put on monitors.  Jeanean, the midwife, came and introduced herself.  Jeanean was tall.  She had a big presence.  She wasn't big; she just had a big voice and big personality.  I asked if I could be allowed to be off the monitors for bathroom breaks (Delilah's suggestion) and she agreed.  I also requested a BPP in part to get the full picture but in part to buy some time to see if the baby's heart rate would come back up with time.  Doug and I talked about how "funny" it was that I was probably going to be induced on the same day as our friends.  She was being induced for being post dates.  So, it was possible that we would have our babies on the same day even though she was 3 weeks ahead of me in the pregnancy.
There was some talk about me being discharged to wait for labor.  I called Delilah and talked through my options.  She told me my options – one was to walk out.  None of us thought that was a good option so we stayed.
After the BPP and some monitoring it was clear that the baby's heart rate was going to stay low and the baby "had to come out today".  I was so angry.  I was angry I was at the hospital, angry about being induced, angry about losing my midwife, the birth center, the huge bathtub to labor in . . . I was angry about it all.  And sad.  I'm sure I cried.  But we had to do it, so we decided to start PIT.  Jeanean left the room to get the orders written and I called Delilah.  I told her what was going on and asked her to come.  And I asked her to bring toilet paper – theirs was too rough.  I also asked her a lot of questions.  She said I might ask for the PIT to be started out low and turned up slowly – those aren't the terms she used but it was what the medical terms meant.  I carefully worded my request to Jeanean the way Delilah said I should ask and Jeanean agreed.  I also ranted to Delilah about my anger, frustration and sadness.
Delilah got there in about an hour.  We both cried.  We were grieving at the loss of my natural unmedicated birth.  We were grieving about it all.  One of the best friends of a Doula is not supposed to end up being induced in the hospital.  It just wasn't fair to have such a great resource that knows you so well and then you get induced.
I told Doug he had 12 to 24 hours to come up with a boy's name if he didn't like Peyton Douglas.  We had settled on either Peyton Grace or Leisel Grace for a girl.  But he did not like Peyton for a boy.  He said he did not have another name and consented to Peyton Douglas for a boy.
I called my mom and my niece, Melissa, to let them know what was going on.  They were coming to Dallas that day because several of my Dallas friends were giving me a baby shower the next day.  We decided they should just come on out.  I called the main hostesses of the shower and told them.  We decided they should talk and decide whether to go ahead and have the shower and hope I could make it or let my niece Melissa fill in for me.  In the end, they decided to postpone it.
Early in the afternoon Betty came by to check on me.  She was so great and sympathetic.  Dr.  Jennifer Allen came and introduced herself to me.  She said she hoped she would not see me again since that would mean a C-section.  She wanted to introduce herself to me before she cut me open though.  She was very nice.  Very "motherly".
At some point I put on my husband's T-shirt because it seemed comfortable.  I had a "pretty gown" for after the birth photos and some tight camisoles but nothing I could wear for monitors.  So I got my husband to give me his t-shirt – the one he had on.
The Pit started at about 4 pm.  The Pit wasn't bad at first.  I had to rely on Delilah to tell me when I was contracting.  She would read the printouts and ask me if I could feel it.  We fought with the nurses about being off the monitors for the bathroom breaks.  I pee often when not pregnant or in labor and I seemed to be going more that afternoon.  I had to insist Jeanean gave me permission for them to let me do it.  Finally Jeanean told them she had agreed to that.  We also fought  about food.  No crackers.  No Sprite.  I was stuck with ice chips and popsicles.  I hated that.  I can't function well if I don't eat regularly and man was I mad about it.
In the late afternoon/early evening, I started feeling the contractions.  Then I needed darkness and silence.  I had sent Doug and Delilah out to get dinner for themselves because I didn't want them to be hungry when I needed them.  They went separately so I wasn't alone. This turned out to be a problem for Delilah because she got something crunchy – I think it was croutons – and I told her to stop eating it.  Poor thing.  I also told Doug to stop typing on his computer.  Any little noise was annoying me at this point.
We got news that our friends were going to have a c-section for lack of progress.  Then we heard that the baby had been born.  Now we only had a few hours to have a birthday buddy.
The next few hours are a blur.  I pretty much stayed in bed on my right side. It was the only position that felt good that I could be in with the monitors.  Delilah tried to get me to stand up but I couldn't.  It hurt too much.  She suggested other positions but that was the only one that worked for me since I was attached to the bed.  Every time I had a contraction, she would lean over and put her hand on me and I would instantly feel calmer.  It was odd, eerie, and soothing all at the same time.
I also peed every time I contracted.  Doug and Delilah would have to switch out the pad under me.
They turned the Pit off at 8:39 pm.  I was dilated to a 6.
I had learned from Delilah that either transition or pushing is the hardest part of labor.  I kept waiting on transition to come for the REALLY hard part.  But it never did.  I never felt like the contractions were "unbearable".  I never thought "Please give me the epidural now".  Maybe I am "a pushing is the hard part" woman.
At 10:20 they put an internal scalp electrode on the baby.  They broke my water.  I was completely dilated.
The next thing I clearly remember is the nurses (and Delilah) telling me it was time to push.  Suddenly the room became very well lit.  Lots of people rushed in since the baby's heart rate had been low most of the day.  At 10:20 they put an internal scalp electrode on the baby.  They broke my water.  I was completely dilated.  They wanted to get the baby out soon.  Jeanean came in half in her scrubs.  I saw her putting them on while running into the room.  She was loud and forceful.  Her voice is normally "big" anyway but it seemed even bigger.  I knew the situation was getting urgent.  The baby had to come out soon.  She told me to push and I did.   It hurt but I wanted my baby out.  I prayed to God to pull as I pushed.  Doug and Delilah were there – one on each side.  Doug on my left and Delilah on my right.  Jeanean started saying things using medical acronyms.  Delilah started telling me what they were.  The urgency of the situation was even clearer at that moment.  I knew that if there was time to make a choice about what they were doing, Delilah would say "Julie, they are going to do this.   Is that what you wanted?"  She did not do that, she just repeated the acronyms and said it is this, they are going to do this . . . They put an oxygen mask on me so the baby would get more oxygen.  I found out later that the baby's heart rate had dropped into the 70s.
A few minutes into the pushing they decided to move me into the OR in case they needed to do a C-section.  The Dr was on her way.  It was bright out in the hallway. Doug, Delilah and Jeanean ran beside the bed, they were moving FAST.  She kept yelling at me that we were not giving up on the natural birth, I was going to keep pushing in the OR.  Delilah said the same thing.  I prayed some more – "Please God just get my baby out.  I'll push as hard as I can, you pull".
We got to the OR and it was VERY, VERY bright in there.  Dr. Allen was there.  I didn't see her but she took over telling me when to push.  Doug was saying he could see the baby's head – it had a lot of hair.  He kept telling me how great I was doing.  Delilah just kept encouraging me and touching me and making the pain not so bad.
There was a lot of yelling.  Dr Allen kept asking "where is Dr. Hill?  (the anesthesiologist).  I'm pretty sure at one point she said where the hell is Dr. Hill.  Then she would tell me to push.  Jeanean yelled at me – "Do you consent to episiotomy? forceps?  Do you consent to vacuum?  Do you consent to a C-section?" " Yes, yes", I yelled back.  It was all so loud and chaotic.   They tried I think they had kicked Delilah and Doug out at this point.  I don't know.  I just remember crying when Dr Allen would not let either of them stay.
Dr. Hill finally arrived.  He began barking orders and yelling.  He asked who was supposed to be in X position.  A nurse spouted "I am but you told me to be here".  Lots more yelling and moving by the nurses.  I could not see anything.  I had the oxygen mask on.  I guess they delivered the general anesthesia through it.  Dr Hill told me something.  I could hear and feel Dr Allen at my side.  She told Dr Hill to let her know when I was out.  I felt the scalpel resting on my belly.  She was READY.  She needed to get the baby out.  Delivered at 11:32 pm.    I had not only not gotten my natural unmedicated birth – I had an episiotomy, had vacuum, forceps and an emergency, general anesthesia, c-section.
I woke up in the room – not recovery – my room.  I have no memory of recovery but Delilah says I was there.  She had talked to me in there.  She was with me.  She had been with me the whole time after they took me from the OR.  Doug was with the baby.  I asked Delilah what the baby was – it was a boy.  She gave me an update on the baby.  He was in the NICU.  Doug was with him.
Delilah made up Doug's bed.  I asked her what time it was and it was in the wee hours of the morning.  I told her to go home.  I was worried about her driving home from McKinney.  She assured me she would be fine and she would stay til Doug came in.  She did.  I slept.
I did not get to see Peyton until after noon the next day.  They did not even want me in a wheel chair for a while.  I did not feel like a mommy.  I cried. I had not gotten the birth I wanted and now I could not even see my son.  At least Doug got to go see him.  And touch him.  Finally they let me go to the NICU to see him.  They tilted his little basket up so I could see him. I touched him.  I couldn't hold him.  I still didn't feel like a mommy.  Later that day we finally got to hold him.  I think it was a day or two before I finally felt like a mommy.
Lucca's Birth Story
In July 2012 I found out I was pregnant.  I had had two miscarriages after Peyton and I was scared this one would end up the same way.  I was also excited.  We only told Delilah about the pregnancy because we knew she would be supportive and we would only have one person to "untell" about a third pregnancy if it ended in miscarriage.
After Peyton's birth I was told that I was a perfect candidate for a VBAC.  The crazy emergency C-section was totally because of Peyton's heart rate.   I had had a fetal distress C-section, plain and simple.  I had made it to complete and pushing.  The Dr told me that if we had had 10 more minutes I could have had the baby vaginally.  But the baby had not had 10 more minutes.  So, I felt good about trying for a VBAC.
Once again I assembled a team I thought would get me my natural unmedicated birth.  My husband was very supportive, Delilah was still my Doula and I chose a doctor who was very natural birth friendly, Dr.  Yolanda Lawson.  She even has a birth center.  She would not let me use it because I was a VBAC.  I was disappointed but I stayed with her because she was so natural birth friendly, she worked at Baylor, a natural birth friendly hospital and I had Delilah.
At 32 weeks, when Dr. Lawson checked the baby, it was breech.  She told me not to worry, it could still turn.  But she mentioned a C-section.  ARGH!  Delilah said it could still turn.  We were hopeful that it would turn.  A breech baby was one of the few scenarios that would mean a repeat C-section for me.
At 35 weeks I could tell the baby was still breech – its head was right by my lungs.  I asked Delilah what I could try besides all those contortionist exercises to get the baby to turn.  I tried a chiropractor, an acupuncturist and those pelvic tilts.    For weeks.  At 37 weeks, we tried a version with Dr. Lawson.  Not too long after they started they had to stop because the baby's heart rate went down.  They put oxygen on me.  Dr. Lawson called for the anesthesiologist.  I was about 1 minute away from having another emergency C-section.  It was all very familiar and I didn't want another emergency C-section so I was glad when Dr. Lawson said we were not going to try again that day.
I had one other option for a natural unmedicated birth.  A doctor that I had heard a lot about from Delilah.  He is super but he is an hour and a half away from me and at a hospital that it not as good for a C-section as Baylor.  Doug and I weighed our options, prayed about it and decided to schedule a C-section at Baylor.  It was not an easy decision.  I shed a lot of tears over it. I was giving up my natural unmedicated birth.  My shot at a beautiful birth experience was gone.  It wasn't fair – one of the best friends of a Doula is not supposed to have TWO C-sections.  I was supposed to have a wonderful, natural birth that provided healing after Peyton's awful birth.
The C-section was scheduled for Friday, March 15, 2013.  I had to be there at 10 a.m.  I had told Delilah to be there by 11:30 or so because it was not supposed to start until 12 and she had some personal business to take care of that morning.  Some people might question me about having a doula at a C-section.  I wanted her at the birth, no matter how it happened.  I knew from my previous experience that she was a calming force for me.  And I needed it.  Also, we knew that if something went wrong with the baby that I would have her with me while Doug went with the baby.  It was peace of mind.  And there was a slight chance of a natural birth if the baby had turned.
Doug and I got to the hospital at 10.  Doug and I settled in.  The nurses did the admit paperwork.  I had the same nurse as at the version and was glad to see her.  She had been calming for me.  I had to put on the awful gown.
Delilah got there at about 11:10.  We had plenty of time.  We made small talk.  Doug sent some e-mails from his computer.  I did a double check of the spelling of our girl name – Leisel Grace.  The boy name was Lucca Charles.
A resident came in and did one last sonogram to confirm the baby was still breech (Delilah's suggestion, and, turns out, Dr. Lawson's SOP).  It was.  There was not enough fluid to try another version, so we proceeded with the C-section.  I signed consent forms.
At noon I turned off my phone.  I was getting too many calls and texts, I needed silence.  Dr. Lawson came in about 12:30.
The nurse anesthetist came in.  I requested "something like Valium" for my nerves because I did not want an epidural. I am very afraid of needles and also afraid of side effects of the epidural so I didn't really want it.  But I wanted to see my baby more than I didn't want the epidural so we were trying to make it as easy on me as possible.  The nurse confirmed that Dr Lawson had communicated that to her and the anesthesiologist.
At about 12:45, they said it was time to go to the OR.  Doug, Delilah and I prayed. Delilah led the prayer.  She lifted me and the birth up to God.  She acknowledged that He and He alone knew what was going on in there – why the baby wouldn't turn.  She acknowledged how God had been in control with mine and Doug's engagement, Peyton's conception, the birth of Peyton, this pregnancy and the two miscarriages in between Peyton and this pregnancy.  She prayed for a healthy baby.  After we prayed they said it was time to go to the OR.  The anesthesiologist wanted me to walk into the OR on my own.  We took one last picture of my bulging stomach.
When we got in the OR, the Anesthesiologist asked me what kind of music I liked so we could listen to that during the surgery.  He was very nice.  He had me sit on the table and lean into Doug.  I asked if Doug was supposed to sit.  Delilah had told me that the Doctors make the husbands sit for the epidural because some pass out.  I didn't think Doug would but I didn't want to chance it.
I got the epidural.  I don't remember it.   The drugs (Versed) must have helped and I'm sure the Dr was good.  One of the things I had dreaded the most about the C-section had gone better than I expected.
The drugs must have worked well because I don't remember a lot of the C-section.   They started it at 1:07 pm, according to Delilah.  I remember being told they had started and were pretty far into it.  The smells were awful.  Delilah and the nurse held alcohol swabs at my nose to avert the smells and keep me from passing out.  It worked.  Delilah and Doug gave me updates.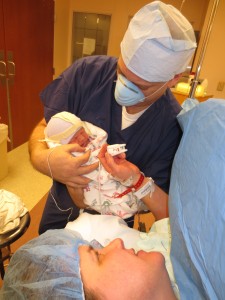 At 1:21 Dr. Lawson delivered the baby.  She held it up.  Doug said "It's a boy".  I had thought all along that it was.  They took him for his APGARS.  They were low.  His breathing was not good.  He had swallowed muconium.  The same as Peyton.  What are the chances?????  They worked on him a few minutes.  They weighed him.  7 lbs 6 oz.  Doug was over by him.  Doug and a nurse introduced him to me.  I rubbed his little face.  His arm.  They took him back to work on him some more.  Delilah said it was a good thing that they let me see him and touch him.  But then they decided to take him to the NICU.  His breathing just wasn't good.
So Lucca and Doug were off to the NICU.  Our worst case scenario was happening.  They finished with me in the OR and counted their instruments.  The nurses got me ready to go to recovery.  They told me they were going to tilt me on my side and it would feel like I was going to fall on the floor but I wouldn't.  Wow, were they right about that.  It was a very scary thing.
I was so glad Delilah was there to be with me.  It was bad enough that I didn't have my baby like we thought and my husband, too, but it would have been so much worse without her there.  Everyone had said that I would be in recovery for an hour or two and then be put in a room.  But that did not happen.
My heart rate was very high.  It turns out my blood pressure had been like a roller coaster during the surgery.  The anesthesiologist had given me drugs to combat the high and low BP.  Those drugs made my heart race.  So he gave me drugs to combat that.  They didn't work.  So I got more drugs.  It was awful.  The anesthesiologist and Dr. Lawson came in at least two times to discuss my situation.  They did an EKG.  They gave me more meds.  There was talk of a cardiology consult if they couldn't get my heart rate under control.  They gave me oxygen.  I thought I might die.  Really.  My sister had had a heart attack about a month earlier and all of that information made me think the worst.  I cried – I did not want to leave Doug alone with 2 small children.   I prayed that I would be okay.
Every time a nurse or doctor came to see me they asked me to move my feet.  I could not.  After what seemed like forever, I still could not.  I kept asking Delilah how long it had been. She told me.  It was not good.  I had been there much longer than expected.   I thought, great – if I don't die from the heart problem, I might be paralyzed from the epidural.  I could not imagine living life with 2 small kids and being paralyzed.  I prayed some more.
Delilah kept putting a cold compress on my head and neck.  She tried to reassure me.  She just stayed by my side.  I don't think she left even to go to the bathroom.
At some point they brought in a breast pump so that I could pump since I had not been able to breast feed yet.  I reluctantly consented.  I loathe the breast pump.
Delilah and Doug kept in touch through texts.  I knew Lucca's status and Doug knew mine.  Lucca was going to be okay.  They did not admit him to the NICU but had put him in a transitional nursery and tended him there.  His blood sugar was low and his billirubin levels were high.  We had different blood types.  He had gotten Doug's.  The high billirubin levels and the different blood types put Lucca at risk for Jaundice.  There was talk in the late afternoon of me or Lucca being released so we could reunite.  But Lucca's blood sugar went back down.  Of course, it did.  He had not been able to eat or nurse.  Doug fed him some formula with a syringe because we wanted to try breastfeeding.
Doug was able to come down and visit.  He and Delilah talked about switching places.   We decided that wasn't good because she couldn't make decisions for Lucca's care if they needed that.  And she was comforting to me.
They moved me to a regular Labor and Delivery room out of recovery so they could monitor me closer.  The nurses went with me.  So did Delilah.
It all got to be too much for me and I threw up.  It was awful.  I couldn't bend to do it.  Someone held the basin there for me while I puked.  Yuk!
After several hours I still couldn't move my feet but my heart had gotten stable.  Then after six hours in recovery I could move my feet!  I was so relieved to be able to flex them.  I wasn't going to be paralyzed after all!  I was going to be okay!
Finally, at about 10:00 pm, they decided to move me to my room.  It took 30 minutes to actually start moving me but the decision had been made.  Doug and Lucca had been waiting on that news.  Lucca had been "free" to leave the NICU for a while.  They wheeled me up to my room.  They brought Lucca in. I finally got to hold my baby.  And see my husband.
Delilah left around 11pm.  About 8 or 9 hours after we had expected her to leave.  What a crazy day we had had.  I told Delilah to drive safely.
That night was rough.  The nurses kept coming in to test Lucca's blood sugar and to do billirubin checks.  They came in to give me pain meds and check my vitals.  And I had to nurse every 2 hours to get his blood sugar up and stable.  No rest was had by any of us.  I was in pain and hungry.  But I only got a liquid diet.  ARGH!
The next day was much better.  I got to eat solid foods and Lucca's blood sugar stabilized.  His billirubin levels got better.  The doctor told me my heart rate was a reaction to the drugs and I should not worry about heart problems.  I could move.  I got up.  I had a shower.
Omanita and Pappa Neil brought Peyton up to meet Lucca.  We had birthday cake for Lucca from Nothing Bundt Cakes.  Yum!  Peyton helped Doug and the nurse give Lucca his first bath.  We took pictures of the boys, and them with Doug, his mom and stepdad.  Our family was now complete.  It was a nice celebration after the crazy day we had had the day before.